200+ Sewing Patterns for Kids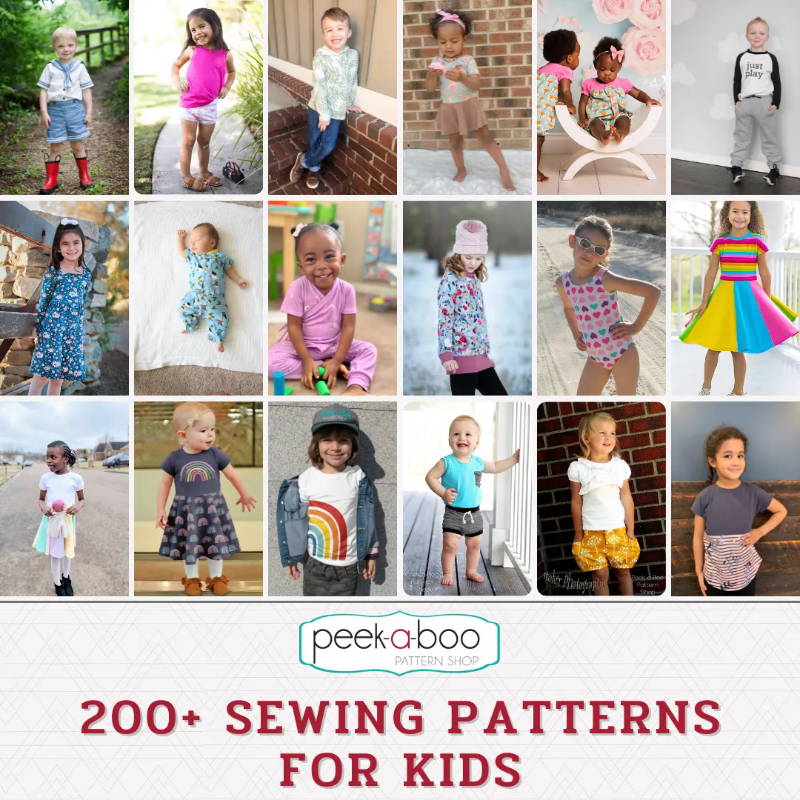 Peek-a-Boo Pattern Shop is the only stop you need for sewing patterns for kids. In total, we have over 200+ sewing patterns for kids that include shirts, dresses, pullovers, hoodies, pants, and so much more. You can easily make an entire wardrobe for every kids in your house with these sewing patterns. They're great for every season and style.
This guide cannot give you a comprehensive list of every one of our patterns....so we'll just try to go over a few of our newer and most popular sewing patterns so you can get inspired about which would be right for you. Most of the kid's sewing patterns that we'll feature in this article are unisex and work equally well for boys or girls. Some of the patterns also have matching adult options. To search through a list of all of our sewing patterns for kids click here: Boys Sewing Patterns & Girls Sewing Patterns.
All of our patterns come with a full tutorial and detailed color photos in an easy to print PDF. Also, please come join our Peek-a-Boo Patter Facebook Group to share what patterns you are making and see everyone else's sewing projects:
Girls and Boys Top Patterns

Here's a few of our favorite kid's top patterns. Add them to your sewing list today!
The Kid's Domino Dolman is one of our newest sewing patterns for kids. It has a ton of options to help you make a different tee, shirt, or hoodie for every day and every time of the year. Options on the Kid's Dolman include: Hood, Neckband, Short or Long Sleeves w/ Optional Cuffs, and a variety of color-blocking options.
It is designed for knit fabric. Some good choices might be Cotton Lycra or French Terry for cooler weather.
Also, be sure to check out the Women's Domino Dolman Tee.
"Great pattern. This is a simple and beautiful pattern that is a quick sew." - Chinmy
"5 stars!!! Love this pattern. I get to match with my girls!" - Vivian
The Kid's Essential Tee is a wardrobe staple and a perfect sewing pattern for kids. It's semi-fitted and has load of options, including: (1) Necklines: Crew, Scoop, V-Neck, and Hood; (2) Sleeves: Tank, Short (2 Lengths), 3/4 and Long (with or without cuffs); (3) Shirt with curved or standard hem; and, (4) Dress with curved or standard hem.
It works well for beginners and is designed for knit fabric.
"Easy to make, many options available. It fits my grandson's perfectly. love patterns from Peek-a-Boo." - Anne
"This was my first pattern that I have tried sewing for a child with, and also I am new to using a serger and printing pdf patterns. I thought it was easy to put together and instructions were well written...I am planning another one." - Amy
In going through our sewing patterns for kids, I thought I would be remiss if I didn't include at least one girls dress pattern. If you want to see more of our over 50 girl's dress patterns, visit our Girl's Dress Patterns section. We also have a handy Dress Patterns Guide.
I singled out the Violet since it's always been a favorite. The Violet is perfect for beginners and features contrasting side panels with optional pockets. It has options for tunic or dress length and short, 3/4 or long sleeves. It's designed for knit fabric.
"An adorable dress. Easy to sew and easy to follow instructions. My granddaughter loves all the knit dresses from Peek-a-Boo Patterns that I have made." - Paul
"True to size, easy to follow directions for someone who has moderate sewing skills." - Teresa
Children's Outerwear Patterns

Our outerwear patterns for hoodies, pullover, and jackets are some of our most popular kid's sewing patterns. Here's a couple favorites but we have so many more you can sort through HERE.
One of our newest and trendiest sewing patterns for kids is the Kid's Shirt Jacket. Again, we have a matching Adult Shirt Jacket. The Kid's shirt jacket is the perfect outer layer for fall or spring. It features a button front and options for a hood or a collar. The sleeves can be finished with a cuff or simple hem.
The shirt jacket is designed for cozy fabric like Flannel, Corduroy, Fleece, or Sherpa.
"Clear, easy to follow instructions made the sewing quick and the end results look great." - Elizabeth
"So Easy! I don't don't have much experience sewing with woven but this pattern was easy to follow and the end result was amazing!" - Angela
"Awesome design...such a treat to use a top quality pattern after some of the other patterns available out there from other companies." - Ettie
A unique and fun sewing pattern for kids is the Grow with Me Pullover. The Grow with Me is designed to keep fitting as your child keeps growing. At the low end of the size range it has a looser fit and the cuffs will need to be folded up. As the child grows, just unfold the cuffs! It includes the following options: (1) View A: Circular Pockets, (2) View B: Kangaroo Pocket, and (3) Hood or Cowl (can be used with either view).

The Grow with Me is just one of our many hoodies or pullovers for kids. If you want to see some more, view our Hoodie Patterns 101 Guide.
"Love it for years to come! Great pattern! Made it for my grandbabies and will continue to make for years to come. Instructions are very clear and easy to follow." - Jodi
"Another great pattern! There are SO many possible design changes with this pattern. Very nice that you get either a cowl neck or hood. Love it, love it, love it! Great for my children's clothing line." - Linda
The Hudson Hoodie is another fun hoodie or pullover in our sewing patterns for kids. It has a lot of fun options to make good use of your scrap bin. The pattern includes different options for color-blocking as well as options for a kangaroo pocket, tank/short sleeves/long sleeves, hood or neckband, and bottom band or hem.

The Hudson is another perfect pattern for knit fabric - some of our favorites include Cotton Lycra, French Terry, or Interlock.
"Sew many options. There are so many options with this pattern. I love how Peek-a-Boo Patterns have so many sizes in one pattern. They grow with the kids." - Jodi
"Great scrap buster...these are easy sews and the directions are great as usual with Peek-a-Boo Patterns." - Julie
"Just finished sewing the hoodie for my grandson. Instructions were well written and it came together very easily and quickly." - Lynn
Check out a couple of our favorite shirt patterns below. Also, keep an eye out for links to matching patterns for other ages / genders.
Many of our most popular sewing patterns for kids come from our Lullaby Line for Baby. Our Lullaby Line has over 30 perfect patterns for baby. I don't have time to highlight them all so I'll focus on a new favorite - the Side Snap Bodysuit. This pattern makes dressing your baby quick and easy. The bodysuit fully un-snaps so you can dress baby without pulling anything over the head. It includes options for short and long sleeves.
"10/10. This is my rating as it is an easy to follow pattern and I loved every moment of the sewing process."
"This was my first attempt at sewing baby clothing. The pattern and instructions were super easy to follow." - Kim
"Simple enough to follow and I love how it turned out! Peek-a-Boo Patterns is my favorite place for patterns!" - Larissa
The Eeny Meeny Miny Moe (EMMM) has enough options to allow you to sew up a complete wardrobe. Options include: (1) Classic Tee, Hoodie, or Dress, (2) Bodysuit, or (3) Tee/Hoodie/Dress with attached bodysuit. All of the options can be made with short or long sleeves and a hood or neck band.
"I've only been sewing about 6 weeks and found this quite easy to follow. I've bought a few from this website and found the instrutions comprehensive but easy to follow." - Debbie
"This is one of my favorite patterns for my girls, if not my favorite. The isntructions are really clear, and the pictures make it easy even for someone wha hasn't done a ton of sewing." - Meghan
"Most onesie patterns I have are really off on sizing, but this one is spot on." - Aunali
The Chicka Chicka Bum Bums (CCBB) is perfect for bummies and shorties. The sewing pattern includes options for: (1) Bummies, (2) Shorties, (3) Skirted Bummies/Shorties, (4) Diaper Cut, (5) Undies Cut, (6) 3 Waistband Options, and (7) Optional Faux Drawstring.
"Perfect for anyone new to sewing with knits...I just love it. The pattern and instructions are so easy to follow and the bum bums are just adorable." - Erika
"Sooo easy and amazing! It was super easy to use. I've only been sewing for 3 months and it took me like 10 minutes to make!" - Amanda
"Absolute perfection. I love how well written these patterns are." - Erica
We have lots of pants patterns for women, men, and children. We'll spotlight a few here but be sure to check out the matching patterns for adults / kids.
The Agility Leggings pattern is perfect for exercise or staying at home. This leggings pattern is packed with options including: (1) Basic leggings; (2) Side stripe w/ optional embellishments (bows, criss-cross); (3) Lengths: 3" inseam shorts, 6" inseam shorts, capris, pants; (4) Waistband options: Yoga or Contoured (standard or high rise); and (5) Skirt.
Also make sure to check out the matching Athena Leggings for Women.
"Quick sew and they loved them. As alway, Peek-a-Boo Patterns are easy to work with." - Tammy
"Great little shorts...good, just like all of your patterns." - Rose
"Wonderful..I've struggled with other patterns being so inaccurate as far as sizing goes. This pattern was very true to size." - Heather
The Jordan Joggers are essential everyday wear. They include the following options: (1) Lengths: Pants, Capris, Shorts, Shorties, (2) Waistbands: Knit w/ Elastic, Knit, Yoga; (3) Optional Pockets with Binding or Band.
Also get the matching Jackson Joggers for Men and Java Joggers for Women.
"Pattern was easy to follow. I'm very new to sewing." - Cara
"Awesome joggers! I love Peek-a-Boo Patterns! They're so easy to follow and I've only been sewing for about a month." - Danielle
"I love sewing things up for this kids...my son LOVES his joggers. I love how quickly they come together and how nice they look. Great patterns." - Catie
The Okey Dokey Overalls provide all the classic overall details you love. They include a front bib pocket, front slant pockets, faux fly, back pockets, optional snap inseam and button tabs at the side for easy dressing.
"Such a rewarding sewing project...they fit great. I'm so proud of them I could cry." - Karin
"Easy pattern and looks great when made...like all Peek-a-Boo Patterns the instructions were easy to follow and it made up so easy. Love it." - Julie
"Never disappointed with Peek-a-Boo Patterns...I believe even a beginner can do this." - Jolene
Sewing swimsuits may not be at the top of your list but you'll find it's suprisingly doable with our patterns. We have swimsuit patterns for boys, girls, women, men, and baby. Here's a few favorites.
The Baja Shorts has a fun side stripe with optional pocket. The elastic waist provides a comfy and flexible fit for active kids. They can be made from knit or woven fabric and have an optional lining. Options include shorties or knee length, optional pocket, optional faux drawstring, and optional lining.
Make sure to take a look through our Board Short Options.
"My go-to pattern now! Super easy shorts..." - Leslee
"Loved this pattern! It fit well, was easy to sew and I just loved the side pockets. Perfect pattern for color blocking. Good pattern for boys and girls. One of my pdf pattern best purchases." - Donna
The Aloha Burn Blocker is designed to keep little ones comfortable and protected from the sun. It includes short and long sleeves and features a zip-up front for easy on/off. A full zipper shield keeps the suit comfortable on the inside, prevents chaffing at the neckline and keeps the zipper pull out of reach for the little ones.
"The instructions were easy to follow and the sewing tips were helpful. The suit fits well and looks great!" - Cynthia
"This was my first time sewing a swimsuit and it was pretty easy. The zipper instructions were very clear. I was able to complete it in a couple of sessions." - Virginia
Our Marilyn Vintage Swimsuit adds some vintage flair to summer. It includes 6 different options: (1) Classic One-Piece, (2) Classic Tankini, (3) Color-Blocked One-Piece, (4) Color-Blocked Tankini, (5) ruched One-Piece, and (6) Ruched Tankini. All of the views can be mdae with later or cross back straps and include optional lining.
"I adore this swimsuit! I've been sewing for three years and was a little nervous to try sewing a swimsuit. This was a great first one to try! It turned out great, and I also love how modest it is." - Kristen
"Best pattern ever. So easy, adorable, modest, and failproof!" - Megan
We also have a few freebies to get you started sewing. You can get these patterns for free by signing up for our newsletter HERE. With the newsletter you can keep up to speed on our latest patterns, special sales or deals, and share what you make. Here's a couple of our favorite freebies here:
The Day Camp Set includes a pair of basis chorts and a t-shirt with optional pocket. It's easy to sew and fun to wear!
"I found this pattern to be perfect for sewing up a quick set of clothes for my little boy." - Fiona
"I am very new to sewing and have attempted other pattern brands without nearly as much success. This was very easy to use/read and turned out great...I will definitely buy more of these patterns." - Jessica
The Romperalls Sewing pattern are quick and easy to sew and you'll make them for all the little ones you know. They snap at the shoulder for easy dressing and are partially lined. The pattern includes options for shorts and pants.
"I'm new to sewing and this is so easy. I've made two for my new grandson." - Barbara
"I have become rather addicted with your patterns as a newbie to sewing....so glad I found Peek-a-Boo Patterns." - Anne
The Jack Frost Hat is perfect to keep your little one cozy on that chilly winter night. It can be made in knit or fleece and sizes range from 0 - adult.
"Kids love it. I enjoyed sewing it." - Kia
"Like all Peek-a-Boo Patterns the instructions are easy to follow, which is geat for a new sewer like myself. My kids loved the hats I made for them." - Allie
Get More Help in Our Pattern Shop Facebook Group
I hope you enjoyed this guide to sewing patterns for kids. Also, be sure to check out our Sewing Patterns Guide to preview patterns for the whole family.
For help with your sewing projects, make sure to come join our Facebook Group and for your supplies please visit our fabric shop over at KnitFabric.com. We offer better prices, higher quality fabric, and flat rate shipping. We REALLY appreciate your business!
Happy Sewing!