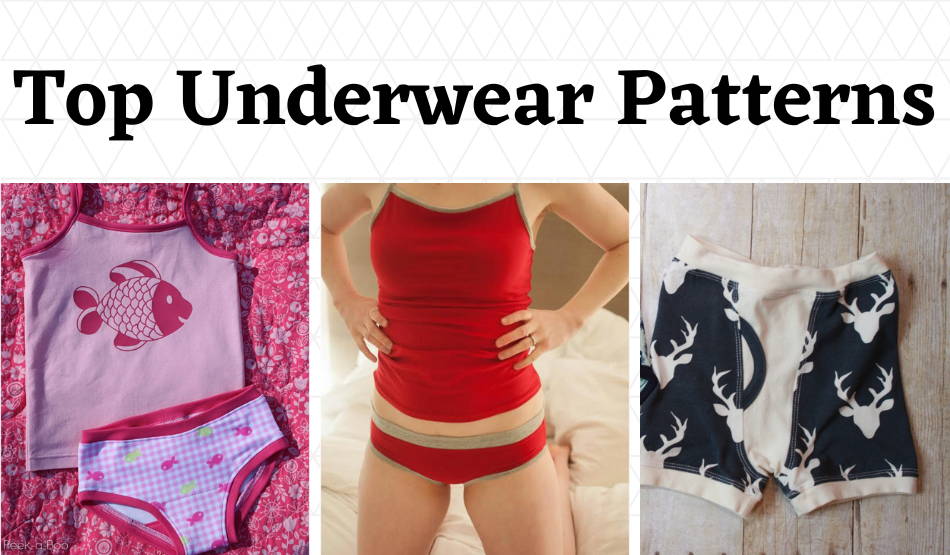 Peek-a-Boo Pattern Shop has underwear patterns for women and children. This guide will go over our top 3 sewing patterns for underwear - the Uptown Undies (women's underwear pattern), the Classic Panties and Camisole (the girl's underwear sewing pattern), and the Classic Briefs and Boxer Briefs (the boys underwear pattern).
The guide will give you info on each of these sewing patterns as well as some reviews from our customers and how they feel about using these underwear patterns. We'll also give you a brief guide of some of our sock patterns at the end - so stay tuned for that.
These patterns are also designed for knit fabric. For your knit fabric needs, make sure to come see us at www.knitfabric.com, where we offer higher quality fabrics, at better prices, with flat rate shipping.
Underwear Pattern for Women | Panties and Camisole

The Uptown Undies is our popular sewing pattern for women's underwear. You can be comfortable and confient in these undeis and camisole with an optional shelf bra. You can also check out our Maternity and Nursing Add-On Pack (featured below).
Women's Panties and Camisole
"I debated on buying this pattern for a very long time. It seems that I'm always searching for undies that are comfortable for me. I hate elastic around my legs and I had found a Hanes style years ago that had bands, but haven't seem them in stores for years. I finally decided to try these, even though the waist is lower than I'd like. It turns out they are so comfortable that I don't even know I'm wearing them, so I don't even notice where the waist lands! I love these and just know I'll never have to buy another pair of uncomfortable store-bought undies again!" - Mary
"Best Undies Ever!! I purchased this after reading a review of different underwear patterns, I am so glad I went with this one. I have already made 5 pairs for myself from scraps of other projects and can't wait to make more. The fit is great, and the pattern is very easy to follow."
"Love it and easy sew. This is a true to measurement sew. Loved the way it turned out and I used them to make a simple tankini. Thank you, Amy." - Terryl
"Great fit!! I found this to be a great pattern that provides a wonderful custom fit. The pattern is easy to put together and the instructions are very easy to follow. I purchased this along with the maternity add-on. I made a maternity cami and a matching pair.of undies. They came out great. I plan to sew up a few more and nursing camis too. - Sew. F
"Comfy! I may never buy undies again! Super comfortable and easy to sew!" - Melissa
Underwear Sewing Pattern for Girls | Panties & Camisole

Don't forget to make the girls. Our Classic Panties and Camisole will have your little ones covered and comfortable. They feature a full coverage fit and have knit bands covering the edges instead of elastic - this adds a whole new level of comfort.
We have a tutorial on our blog that goes over, in step-by-step detail, How to Sew the Classic Panties and Camisole.
Classic Panties & Camisole
"Made the panties for my 4yo daughter to use up scraps of jersey. Really fun and quick project. She grabs them from the drawer every time they are clean, so she seems to enjoy wearing them. I really like the fit and coverage, they are very modest. I'm wondering if the panties + camisole set made in swimsuit fabric would make good swimwear too!" - Jennifer
"Fast easy underwear. Easy to use not much pattern pieces and fast to sew." - Mireille
"My daughter LOVES this set (and so do I)! Made this and the women's version (Uptown) in matching fabrics for me and my 6 year old daughter. She loves her's and can't wait for me to make her more!!! I think eventually all her undies will be replaced with these. (And for the ladies you won't be disappointed with the Uptown for yourself, I may never go back to RTW). These sew up very quickly and can easily be done without needing a serger/overlocker/coverstitch (although i do prefer the finished look of the serger). This pattern will pay for itself I'm sure!!" - Carrie
"Great. The panties are very well drafted. Not too tight or too big of a rise. My daughter loves them!" - Rachel
"Love these! Fantastic & easy to follow pattern. My youngest loves the underwear cause there is no need for elastic & can also be made as bathing suit bottoms & the camisole used as a top & not just under a shirt." - Timothy
Boys Underwear Sewing Patterns

Now onto the boys. Our boys underwear pattern comes with options for Classic Briefs or Boxer Briefs. Like our other underwear patterns above, these will keep your boys covered and comfortable. Both the briefs and boxer options inlclude a faux or functional fly. Like the panties above these are 100% knit fabric - no elastic - to give a new level of comfort to your underwear.
We also have a tutorial on our blog that goes over the trickier parts of How to Sew the Classic Briefs and Boxer Briefs.
Classic Briefs & Boxer Briefs

"Undies! Perfect pattern! Made lots of undies! Great scrap buster. Also good projector pattern." - Lara
"Great pattern. I love this pattern, it is super easy and a quick see. I've made several pairs for my son and he loved them all!" - Celine
"I purchased this to make my toddler some fun undies and the pattern didn't disappoint. Enough options to make it useable for a long time but simple enough to whip up a few in an afternoon." - Stacey
"Comfortable boxers. It was easy to figure out after the first pair. The fake fly is a little tricky to get on correctly since it is so tiny. Made a pair for each of my little grandsons. They look adorable on them!" - Anne
"Super easy and fun pattern! I was really nervous to make undies for my son. This pattern is so easy and will make you want to sew a whole bunch of undies for all the kids you know." - Leslie
"Great pattern! This is an easy to follow pattern and my boys love their briefs. I will definitely be making a lot because my boys dont want to take them off." - Leslie
Using our PDF Sewing Patterns
Are you new to PDF Sewing Patterns? No worries...I'll explain a bit about the digital sewing pattern revolution. PDF Sewing Patterns have a lot of advantages over traditional tissue like paper patterns that you can buy in the store. First, you can re-print them as many times as you want. When you purchase a pattern from Peek-a-Boo Pattern Shop, you'll receive an account on our website where all of your patterns were will be stored. You can log into your account and print your sewing patterns as many times as you want.
Second, most of our sewing patterns - including both of the Maxi Dress Patterns featured above, include layers. This means that you only have to print the size you want. When you print the pattern, you can print it on regular printer paper which is far more durable than a tissue paper pattern. Finally, most of our patterns, including the maxi skirts, have projector files. Many people are buying projectors that they can mount from their ceiling and use to project pattern pieces onto fabric while they cut them.
Our PDF Sewing Patterns come with a full tutorial and color photos in an easy to print PDF. The Pattern pieces are computer generated and color coded for easy cutting. These Maxi Dress Patterns also include layers so you can just print off the size you need. They also include an A0 format for printing at a copy shop and a projector format.
If you'd like some more info check out our tutorial on PDF Sewing Patterns.
Choosing Fabric for Your Underwear
Our three underwear patterns featured above are all best made out of knit fabric with at least 30% stretch (4-way stretch is best). One of the following fabrics would be a good choice:
Cotton Lycra:

Our most popular fabric at KnitFabric.com is cotton lycra. It has 4-way stretch and a soft hand. It's a comfortable and versatile fabric and a very popular fabric for underwear.

Interlock:

Interlock fabric is a soft and stable knit and easy to sew with. Although interlock isn't as stretchy as jersey the edges will not curl when cut or stretched making it easier to work with.
Tips & Tutorials for Sewing Underwear Patterns
We referenced a couple of our different blog tutorials above on sewing underwear. We also have one more tutorial that goes over both the classic panties and classic briefs - How to Sew Underwear for Boys and Girls. This is a step-by-step tutorial that goes over these patterns and shows you how to to get through the whole thing is you're having any trouble.
Other Patterns for Underwear Like Accessories
As long of you're sewing underwear, you might as well sew some socks too - are sock patterns shown below are SUPER popular and add comfort that you never thought was possible to your socks. We also have a Maternity and Nursing Add-On Pack for the Uptown Undies if you're interested in that.
Uptown Maternity & Nursing Add-On
The Uptown Undies Maternity & Nursing Add-On includes variations for a maternity camisole, maternity camisole with nursing panel, and a standard camisole with nursing panel. This allows you to nurse discreetly and comfortably.
"Amazing. I loved everything about it. Simple and fun!" - Rachel
"Very good, easy to make." - Dawn
"Just what I needed! I needed a nursing tank without a built in shelf bra, since I need actual bra support. This pattern was perfect for my needs. It's perfect for layering under a crossover top - I can pull down the crossover, pull up the nursing layer, and have modest access. So nice to have a nursing tank without a plunging neckline. Thank you PAB!" - Sarah
The Cozy Toes Socks is a sock pattern designed for fit and an extra level of comfort. It includes a dart at the heel for optimal shape and seams along each side and accross the top of the toes. It forgoes the seam at the top of the tow - adding to the comfort factor. It includes options for knee high, crew and ankle length, and 8 applique shapes for creating fun animal designs if you like that sort of thing!
"Fleece socks make fabulous gifts and this pattern fits very well. Others I have tried are loose fitting which is okay if you don't want to wear them in boots or shoes but the Cozy Toes are the best I've tried. My family looks forward to new fleece socks every Christmas and this year I got rave reviews on the fit." - Barbara
"Love these socks! The pattern is very simple to follow and super comfy to wear. My favourite part though is that I can now make myself knee socks that actually fit over my calves without having to hack a pattern like crazy." - Amanda
Now onto the kid's with the Cozy Critter Socks Pattern. The pattern includes options for knee high, crew and ankle length socks as well as 8 applique shapes for animal knee highs. Again - these socks are designed with comfort in mind and include a dart at the heel for optimal shape and seams long each side and accross the toes. No seam at the front for optimal comfort.
"I just made a dozen of these in size 7,8,10 for my great niece and nephews. They were thrilled and said they were very comfortable. Made some ankle, some crew, some knee. Used mostly leftovers from cotton lycra shirts. Takes longer to pick out the fabric than to sew..." - Deborah
"Fun sew! This was my first time sewing socks and it was easy with the great instructions. I love the socks! Next time I will make them a tad longer so they will reach the very top of my calf. Great pattern! - Kathleen
Get More Help in Our Pattern Shop Facebook Group
Alright - you're ready to start sewing underwear now. If you enjoyed this article then you might take a look at some of our other pattern round-ups like the Pants Pattern Guide and Shirt Pattern Guide. Besides that, pick a pattern, and start sewing.
Also, please be sure to join our Facebook Group and for your sewing supplies please visit our fabric shop over at KnitFabric.com. We offer better prices, higher quality fabric, and flat rate shipping. We REALLY appreciate your business!
Happy sewing!