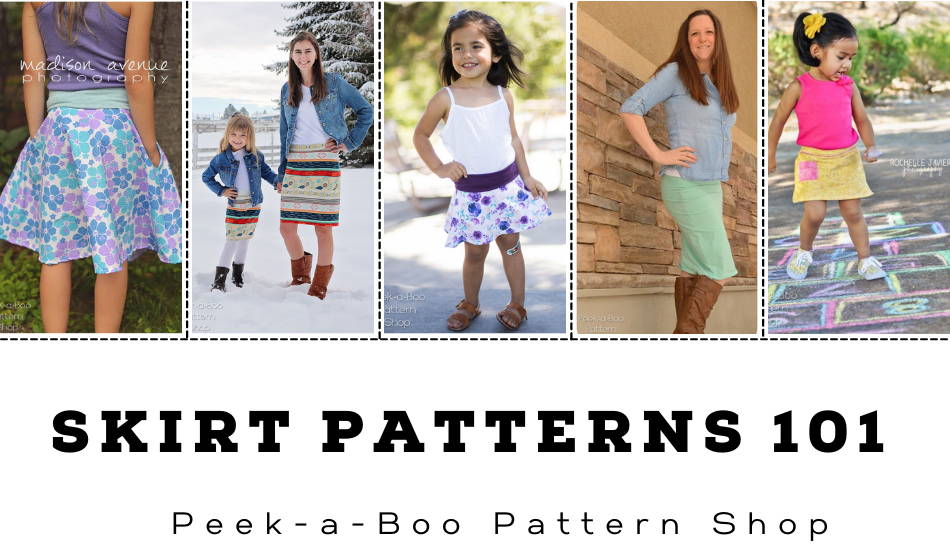 Peek-a-Boo Pattern Shop has a number of skirts for all of your sewing needs for women and girls. We have patterns for the formal skirt and informal skirt as well as skort patterns that are perfect for playtime. We've also included a number of other patterns in this guide that have a skirt length option. This sewing guide is designed to help you sift through our various skirt options and figure out which skirt is right for your project. To sort through each skirt, follow this link HERE.
Our Skirt PDF sewing patterns come with a full tutorial and color photos in an effortless to print PDF. The pieces are computer generated and color coded for simple cutting and sewing. Most patterns include layers so you can just print off the size you need, an A0 format for printign at a copy shop and projector format.
Also, you'll notice that many of our skirt patterns are best sewn with Knit Fabric. Go to KnitFabric.com for all of your apparel fabric needs - we have higher quality fabric, at better prices, with flat rate shipping.
AND…after you sew your skirt up, be sure to share your sewing project at the Peek-a-Boo Facebook Group.
Now here's our skirt guide:
Women's Skirt Sewing Patterns

Peek-a-Boo Pattern Shop has a wide selection of skirt and dress sewing patterns for women for both formal and informal occasions. There's truly a skirt for every occasion and season. New to sewing? That's ok too. Many of these are perfect for sewing novices. To see our full line-up of women's bottoms, including each skirt, head over to the Women's Bottom Sewing Patterns
The Piper Pencil Skirt is a quick and fun pencil skirt and the perfect sewing project for beginners. It includes options for sewing 3 waistbands (encased elastic, exposed elastic and yoga), 2 rises (high and low) and 2 lengths (above and below knee). The low rise option with yoga waistband works well for maternity.
See below - there's a matching girls skirt version (the Pipsqueak) and you can save $2 at checkout on both with the code "PENCIL"
"Best pencil skirt...Look no further! This is the FIRST pencil skirt to fit me to perfection. Careful attention to drafting details aid the fitting...I've bought the Pipsqueak too. I'd give an identical review for it, also." - Susan
"This is one of my most favorite patterns ever! I love the versatility of waistband options, skirt lengths, and where the waistband falls. This was super quick to make and it looks fabulous! Highly reccomended - even if you're a beginner - it's a great into project to kits." - Kelly
Seattle Skater Skirt Pattern
Sewing the Seattle Skirt is super fast project. It features a half circle skirt with a yoga waistband and optional pockets. This skirt be made with knit or woven fabric.
See below - you can double the fun with the matching Spunky Girl skirt and save $2 at checkout when you purchase both skirts, with the the code "TWIRL"
"New favorite! This skirt is so easy and quick to sew! I have already made 2 versions (without the pockets as I wanted something really quick). ..The size is perfect, it fits great, it's comfortable and looks good. I will be making many more." - Delphine
"Essential wardrobe piece. This is a great skirt. Love that you can use knits and wovens for the main skirt. I have made 2 adult ones and 2 kids!! - Rose
The Skyline Skort includes options for sewing pockets, 3 skirt lengths and optional built in shorts to keep you covered. Again, we have a matching girl's skirt (the Skip Along as shown below). If you purchase both skirts you can save $2 at checkout with the code "SKORT".
Customers love sewing this skirt:
"In true PAB fashion, this is a clear, easy to follow pattern that fits great! I love the pocket option to store all my mommy necessities. The woven/knit mix of fabrics is so fun and comfy and the little pocket details are such a cute design feature. Great beginner patttern and so comfy to wear - Highly recommend!" - Photocowgirl
"Adorable skorts...Good instructions as always. I also like the fact I can do it in either woven or knit." - Miki
Sewing matching skirts is simple at Peek-a-Boo Pattern Shop. We have a number of girl skirt sewing patterns to match the women's versions. Be sure to look through the description of each skirt to see how to get $2 off on each when you purchase both!
Like the Piper Skirt, the Pipsqueak is a fast sewing project. It includes options for sewing 3 waistbands; encased elastic, exposed elastic, and yoga. Customers love this skirt!
"Simple and effective. I love this skirt! Yes the concept of a pencil skirt is simple - a tube...definitely worth the money and I will be making more!" - Paige
"Awesome. Such a quick and easy project! My 3 year old loves that she can match mommy with her pencil skirts...Terrific!" - Stephanie
The Spunky Girl Skater Skirt is perfect for twirling. It's a a quick skirt to sew and, like the Seattle, features options for sewing a half circle skirt, yoga waistband and optional pockets.
"Great pattern for beginner seamstress. My 6 year old grandaughter made this skater skirt with minimal help from me...Great beginner project and very cute!" - Kathy
"Simple and beautfiul. This was such a quick fulfilling sew and my daughter absolutely loves it!" - Colleen
The Skip Along Skort works for any occasion. It has options for sewing 2 lengths, built-in shorts, a comfy waistband with optional elastic and an optional faux drawstring. Of course, you can make this as a skirt or a skort.
"It's a hit! my four year old has delcared her undying love for bottoms with real front pockets. Because she too is tired of fake pockets or no pockets, just like her mom! So I picked up this pattern and she has worn her new skort two days in a row..And it twirls! And it has short under!" - Sarah
"Super fun. Very nicely explained...a beautiful skort for a playful child." - Annie
School Girl Skirts Sewing Patterns

Sew a skirt for school or play with our lineup below. Start sewing your daughter a skort or classic schoolgirl skirt:
The Molly Schoolgirl includes a vintage old time style skirt. It features a full skirt and optional suspenders. It also comes in both a vintage above the knee length skirt and knee length skirt . The Molly Schoolgirl Skirt should be sewn with non-stretch fabric.

The Molly Schoolgirl Skirt has a coordinating Molly Schoolgirl Blouse as well. You can buy both and save $3 at checkout with the code Schoolgirl.
"High fashion, super simple...I used a twill fabric and it turned out so cute. I always dread gathering but it was so simple with the instructions." - Julie
"Show-stopper!" I made a few of these for our Holidays last year, and we were stopped in several places and asked where the skirts came from! The girls love them!" - Cat
The Sporty Girl Skort is perfect skirt for the active school girl. You can run, jump, and climb while staying completely covered with the built in shorts.
The Sporty Girl features options for sewing piping along the waistband, front pocket, accent slits on each side seam and elastic in the back for a perfect fit. The skort hits at mid thigh.
"Very cute....I will make several items in different fabrics for my grandaughters." - Carla
"I love this...the instructions were very well written...the fit was also excellent." - Monica
If you're looking for something for school with a little better coverage underneath then we have the School Belle Skort. You can sew it using a classic twill fabric for a traditional school uniform look or something a little more casual.
For features, the School Belle skort has options for sewing a pleated front, flat-front waistband, adjustable elastic in back, and built in shorts.
"Great skort for school! Easy to sew, looks great on....My daughter is very pleased with it." - Kathryn
"This is the best pattern! My granddaughter needed exactly this for a school uniform....highly recommend it!!!" - Linda
Sewing a skirt for your baby may not be at the top of your list but we have a number of options for a skirt for babies or toddlers:
If you're sewing for baby, then many of the sewing patterns we've already featured would work well as the sizing starts at 3 months. We also have one more option to feature though out of our Lullaby Line - the Chicka Chicka Bum Bums (CCBB).
The CCBB isn't just for making a skirt, it also includes options for sewing bummies and shorties. It's one of our most popular pdf sewing patterns and, as you can see from the pictures below, the skirt option looks great.
"5 stars. Super cute and simple...can't wait for my daughter to wear them." - Stephanie
"One of the easiest patterns I've every seen! Variations make it very versatile..." - Robin
The Daydreamer dress and top is perfect for summertime outfits and nighties. There are a number of options, including: (1) A-line Top, (2) A-line dress, (3) Dress with twirl skirt, (4) Dress with gathered skirt, (5) Flutter sleeves, (6) Tank top with bands or bindings, or (7) neckband or neck binding.
Cotton lycra fabric would be a good option for sewing this.
"My 5 year old grandaughter loves twirling the circle skirt. She wears it for a night gown as well as for day play." - Jolene
"This is such an easy sew and produces the cutest nighties for my grand girls. They keeping asking for more so I think it's a hit." - Margaret
The Riley Romper & Dress is great for a comfy or fun outfit (including skirts) for any season. It has several options, including the option for sewing a skirt: (1) Cross-back tank, (2) Tee with short or long sleeves, (3) Joggers in shorts & pants lengths with optional pockets & optional snap inseam, (4) Track shorts with optional pockets & optonal snap inseam, and (5) Skirt with optional patch pockets.
"I love this....Definitely my proudest make so far. Will be making lots more." - Elizabeth
"I made the regular short romper and short sleeve top. It turned out really cute and my grandaughter loves it." - Kim
Patterns with Skirt Options

Sewing a skirt is simple with a number of our dress patterns, including the following:
The Tatum Twirl can be made with different skirts - a simple single tier skirt or a twirly 3-tier skirt. The twirl dress includes options for a hood or neck band and 3 sleeve lengths - short, 3/4, and long. The Tatum also has a drop-waist knit bodice and the skirt can be made from knit or woven.
Some good fabric choices for sewing the shirt might be Poplin, Quilting Cotton, or Seersucker, etc.
"Lovely ...my daughter loves the dress I made her. Easy to use as a beginner in dress making. Highly reccomend. Also very versatile." - Gabi
"What a great pattern! This is my second Tatum Twirl Dress and first with a hood. I just love it! The clear cut instructions make these patterns a joy to sew and watch come together." - Nicole
The Agility Leggings also include a couple skirt options. You can make these for any season or occasion. In total, options include: (1) Basic leggings, (2) Side Stripe w/ optional embellishment, (3) Elastic, Basic knit waistband, yoga knit waistband, or (4) Skirt.
Check out our Athletic Fabric for sewing up the Agility leggings.
"Agility leggings. I give this pattern five stars. They were easy to sew and I liked the options. My grandaughter said they fit great." - Donna
"This is a great pattern that is super easy to put together and fit my grandbaby beautifully. This will be a staple in her wardrobe as she grows." - Julie
If you're sewing a swim skirt we have you covered there too. The Cabana swim bottoms have options for basic bottoms, mini ruffle bottoms, skirted bottoms, and a swim skirt. The swim skirt can be worn over a one-piece while swimming or as a fun swim cover up.
We have an amazing selection of swim fabric that would work well for sewing these.
"So cute! I made these with the Tankini Top and they are just so adorable. This was also the first time making anything swim and it was so easy! Will definitely be making these every year." - Loni
"Comfortable, modest swim bottoms. I sewed this as a beginner. The instrucions were so clear that I was able to make them. I did get a lot of help from the active PAB Facebook Group." - Nicole
Free Pattern | Peek-a-Boo Pattern Shop

Finally, if you're just getting started sewing and want a super simple skirt we have the free star spangled skirt or skort pattern which is Free when you sign-up for our newsletter HERE. Our customer Jesse says, "Adorable!! This is the first thing I have sewn in at least ten years and it turned out adorable! It was easy and very user friendly. I absolutely love it and can't wait to sew more things from here!"
Sewing Patterns Support in our Facebook Group
Thank you for joining us for our skirts guide today. As you can see, sewing a skirt for every age, every season, and every occasion is possible with Peek-a-Boo Pattern Shop. Our skirt sewing patterns are designed to be easy to make. When you start sewing with Peek-a-Boo Pattern Shop you'll be amazed at what type of professional looking clothing that you can create yourself.
It's amazing what kind of quality clothing that you can sew for yourself and your family witha good tutorial. The compliments will start coming in on your sewing as you continue to learn new sewing skills. If you enjoyed this guide, then you should also take a look at our Dress Patterns for Women Guide or our Dress Patterns Guide, which includes the girls too.
Also, come join us! Our customers hang out in our Peek-a-Boo Pattern Shop Facebook Group. In the group, you can share what you make, get inspiration, and see our special deals. Happy sewing!