Top Shirt Patterns | Hundreds of Sewing Patterns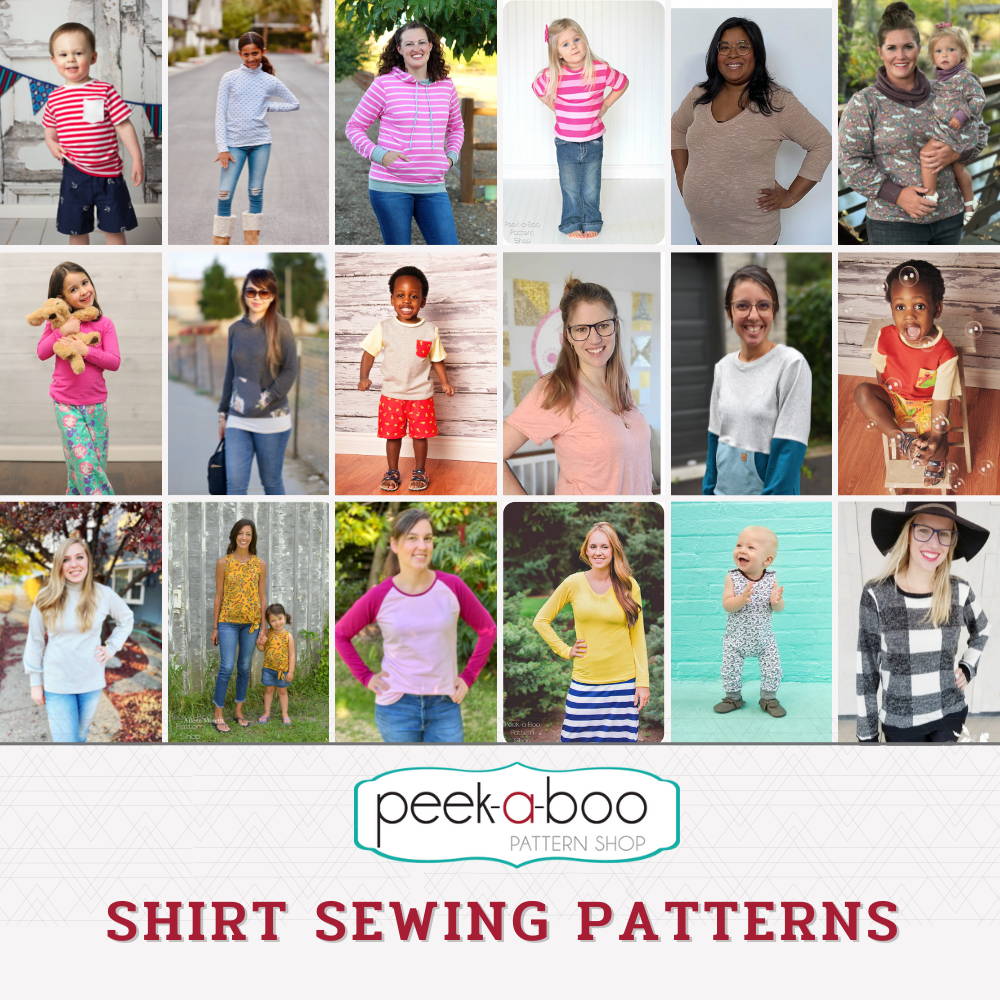 Peek-a-Boo Pattern Shop is the perfect place for shirt patterns. We have dozens of options for kids, women, and men. We literally have an option for every season or occasion. Many of the patterns also include options for hoodies, pullovers, etc. You can make an entire handmade wardrobe with patterns from Peek-a-Boo Pattern Shop.
Of course, we can't give a comprehensive guide of all of our shirt patterns here - we're here for the highlights only. So make sure to go over to our Shirt Patterns section of the website and browse for yourself. You can sort by fabric type, skill level, etc. Many of our kids patterns are also unisex and work well with boys or girls.
If you're familiar with Peek-a-Boo Pattern Shop you know that all of our patterns come with a full tutorial and detailed color photos in an easy to print PDF. Also, please come join our Peek-a-Boo Patter Facebook Group to share what patterns you are making and see everyone else's sewing projects:
Here are a few favorite shirt patterns for women:
Women's Essential Turtleneck
The Women's Essential Turtleneck will keep you cozy in the winter months. It includes options for:
Mock, Turtleneck & Cowl Neck

Standard or Bishop Sleeves

Top or Dress

Maternity

Nursing Access
It is designed for knit fabric. Some good choices might be Rib Knit, Sweater Knit, or Waffle for cooler weather.
We also have the Kid's Essential Turtleneck.
"If you want a quick and satisfying sew with a beautiful result, then hurry and grab the new Essential Turtleneck...My daughter loves it and is waiting for me to finish another one for her." - Mimi
"The new turtleneck PAB pattern...is a game changer for the cooler weather! YOU NEED THIS PATTERN. I did cowl necks for all of us but made a tee for myself and dresses for my girls. The bishop sleeves are gorg!" - Rachel
Women's Domino Dolman Tee
The Women's Domino Dolman Tee is packed with a ton of different mix and match options:
Hood

Neckband: Crew (all views) and scoop (views A & B)

Short or Long Sleeves w/ Optional Cuffs

View A: Solid Front/Back

View B: Colorblocked (2-piece colorblocking with colorblocking below the bust)

View C: Colorblocked (3-piece colorblocking with colorblocking above the bust)

View D: Colorblocked (2-piece colorblocking with colorblocking above the bust)

Maternity

Nursing
Designed for knit fabric.
"Perfect construction and fit. This pattern went together without a hitch and was a very comfortable fit! I'll be using it often." - Joan
"Love it!!! I love this pattern so much because you can have so many different looks. Love having so many options!!!" - Vivian
The Women's Essential Tee Shirt is perfect for every seaon and stage of life. Mix and match these options:
Necklines: Crew, Scoop, V-Neck, and Hood

Sleeves: Tank, Short, Elbow, 3/4, and Long

Nursing Access

Maternity

Shirt with Curved or Standard Hem

Dress with Curved or Standard Hem
Works great with medium to light-weight knit like slub or cotton lycra.
"Tuly Essential. Love this, love your designs, well made patterns, CLEAR and detailed instructions. The best I have ever done with a knit neck binding, thank you! Went back and bought the kid's version, and two kid's pants patterns. I'm actually having fun sewing!" - Barb
Another great pattern. Easy to follow instructions. I purchased this pattern to make a maternity top for my daughter. It is a simple, quick pattern that fit excellent and made her happy. I will make more maternity and non maternity ones.
Boys & Girls Shirt Patterns

The Kid's Tie Front Tee is a fun everyday staple for winter or summer. It includes sewing options for flutter sleeves, short sleeves, long sleeves, and choice of neckband or hood.
Also get the Women's Tie Front Tee.
"Very cute tie front tee. It went together so easy and looks really cute on the girls! I will be making more of these..." - Conita
"Easy to sew, adorable pattern, lots of options." - Kysa
"Adorable. 5 Stars! Easy and adorable." - Kathy
The Tide Pool Tank is a quick and easy project for summer. You'll make it over and over again. It comes with a slim-fit and includes options for a scoop neck or hood.
"Quick and easy. This was a very quick and easy sew. The sizes were very true as well." - Pamela
"Super easy! I did the hooded tank, and my kiddo loves it! There are so many cute patterns for girls, and it's a lot harder to find fun stuff to sew for my boys, but this was perfect. Very clear instructions and sizing was great." - Miranda
The Grand Slam is a long-time favorite of our customers. It's easy to sew and comfy to wear. It includes options for: (1) Tee, Tunic, and Dress, (2) Short, 3/4 or Long Sleeves, and (3) Neck Band or Hood.
"Knocked it out of the park! I love this pattern. I made a size 8 for my very tall 6yr old...This pattern was very simple to follow and sewed up very quickly!" - Shannon
Cute and easy! This pattern is fantastic! I'm a beginner, and sewing this was simple and fun! My son absolutely loves his shirt and wants to wear it daily…I'll be needing to make him a few more! - Ilicia
Don't leave out the men. We have a few popular shirt patterns for them:
The Rocky Mountain Raglan shirt is made for adventure! It includes options for short, 3/4, and long sleeves. You can sew up raglan sleeves simply and the shirt provides for great colorblocking options.
"Sew easy! This is a great pattern for beginners! I followed the sizing guide, and the shirt fits my husband perfectly. Perfect for an afternoon sewing therapy session :-)" - Watoo
"Terrific! Just what I needed! My great nephew is bigger than a youth size and smaller than commercial men's sizes. The XS in this pattern is perfact and as always, the instructions are impeccable!" - T.S.
The Men's Essential Tee is another in our series of essential tee series along with the Women's and Kid's versions. It has options for:
Necklines: Crew, Scoop, V-Neck and Hood

Sleeves: Tank, Short Long (with or without cuffs)
"Men's Essential Tee, perfect to a T. I found this pattern a quick sew, good fit and the recipient was thrilled to finally have t-shirts that are long enough for him! Will be making many more." - Pam
"Great T-Shirt. The instructions were easy to follow and the shirt turned out perfectly! My husband loves it :D" - Amy
The Tahoe Tee includes options for a pocket and 3 sleeves lengths (short, long, and muscle shirt). This is your quick and easy men's t-shirt sewing pattern.
"Great pattern. This was such a simple pattern to follow. My husband said it's really comfortable. The instructions were so easy to follow and the fit is great." - Julia
"Fun and quick sew! This was a fun and quick sew. I made two work out shirts for my husband for father's day. He really loves them and they were easy!" - Katie
Popular Sweatshirt or Outerwear Patterns

Apart from your standard shirt patterns, we also have a ton of different hoodie, pullover, jacket patterns, etc. for use as an outer layer oer the shirt. Here's a couple favorites.
Adult Shirt Jacket Pattern
The Adult Shirt Jacket is perfect for a cozy or crisp day. It features a button front and options for a hood or collar and can be finished with a cuff or simple hem.
The shirt jacket is designed for your favorite fabrics like flannel, corduroy, fleece, and sherpa.
"Love my 'shacket'. Easy to follow pattern, was worried about sizing with a fluffier lining, but it's perfect!" - Nicole
"Terrific pattern. The instructions are very comprehensive and I love the variety of options. Made one for my son in flannel and Sherpa and will definitely be making more." - Diane
Aspen Pullover Sewing Pattern
The Aspen Pullover is one of our most popular sewing patterns of all time. It has a fun kangaroo pocket in front, accent trim, raglan sleeves and options for a cowl or standard neckband.
Also get the matching Alpental for Men and Altitute for Kids.
Nursing option. The pattern was great and the instructions were easy to follow. A great top for my niece who is a new mother to a baby boy!
"What a great pattern! First time

sewing

an adult pattern since I took up

sewing

a year ago. Did the nursing option for my daughter and the pattern was so easy to follow. It turned out so well that I bought some more fabric and did one for myself." - Elizabeth
The Youth Parker Pullover is great for scrap busting with your knit fabrics. It features a relaxed fit, room to layer, colorblocking, two pocket styles, and choice of hood or neckband.
"Super cute!! Lovely pattern! I love the dependability of a straight forward Peek-a-boo Pattern!" - Elizabeth
"Great sweatshirt pattern. I have made three Parker sweatshirts. The pattern was easy to follow, and came together quickly. Sizing is accurate with room for growth." - Lisa
"This fun pattern is definitely going to be my quick go to pattern! I love the options to choose from. I have one made and two more cut out. The instructions are easy to follow and the results are beautiful." - Mary
Sewing swimsuits may not be at the top of your list but you'll find it's suprisingly doable with our patterns. We have swimsuit patterns for boys, girls, women, men, and baby. Here's a few favorites.
Hang Ten Rash Guard Shirt

You can keep yourself safe from the sun with this shirt. It's a rash guard that's quick and easy to sew. It includes options for long sleeves, short sleeves, a side stripe, and an optional snap placket for easy on/off.
Rash guard shirt. I really like this pattern. It took me a while to decide on fabric but once I got going, it didn't take long to make...It turned out great and he loves it! I will be making more of these, I can tell." - Debbie
This only took me about an hour to make and turned out so cute.. my gdaughter is going to love it :) - Janice
"Love this little rash guard! It came together perfectly for a first attempt at sewing with swim fabric! It held together after multiple days at the lake!" - Saree
The Aloha Burn Blocker is another one to keep you safe from the sun. It includes short and long sleeves and features a zip-up front for easy on/off. It also has a full zipper shield keeps the suit comfortable on the inside, prevents chaffing at the neckline and keeps the zipper pull out of reach for the little ones.
"The instructions were easy to follow and the sewing tips were helpful. The suit fits well and looks great!" - Cynthia
"This was my first time sewing a swimsuit and it was pretty easy. The zipper instructions were very clear. I was able to complete it in a couple of sessions." - Virginia
The Bahama Mama Blouson Top offers full coverage and support. It has a gathered front bodice with accent yoke an x0back straps. This is flattering for all figures and makes a great swim, athletic, or everyday top.
"Made a swim top i love. Sized it up and left off the bottom band out of t-shirt knit for a cool comfy summer top." - Sally
"Awesome multi use top pattern. I made this top as an exercise top and love it! Stays put during a pretty intense workout. Love the built in sports bra and didn't need any extra support for working out." - Maryanna
Free Sewing Patterns for a Shirt or Sweatshirt

We also have a few free shirt patterns to get you started. You can get these patterns for free by signing up for our newsletter HERE. With the newsletter you can keep up to speed on our latest patterns, special sales or deals, and share what you make. Here's a couple of our favorite freebies here:
The Day Camp set is the perfect shirt pattern to get you started sewing. It also includes a basic shorts pattern.
"I found this pattern to be perfect for sewing up a quick set of clothes for my little boy." - Fiona
"I am very new to sewing and have attempted other pattern brands without nearly as much success. This was very easy to use/read and turned out great...I will definitely buy more of these patterns." - Jessica
The Romperalls aren't technically a shirt but they provide full coverage and will work to get your little one dressed.
"I'm new to sewing and this is so easy. I've made two for my new grandson." - Barbara
"I have become rather addicted with your patterns as a newbie to sewing....so glad I found Peek-a-Boo Patterns." - Anne
The Adult Classic Sweatshirt is a cozy sweatshirt that will get you cozy during the winter months. The sleeves include options for both a relaxed and semi-fitted version.
"Quick and easy. This pattern was fun to make and quick to finish..." - Abby
"Great pattern. This is the first Peek-a-boo pattern that I've used and I am delighted with the results. Pattern was easy to put together and the sizing was accurate. The instructions were easy to follow and I will certainly make it again. Thanks!" - Bev
Get More Help in Our Pattern Shop Facebook Group
Thank you for joining us at Peek-a-Boo for a review of our shirt patterns. As you can see, we have about every shirt pattern you could want. Also, make sure to take a look through our Sewing With PDF Patterns Blog Post to see a little bit more about what PDF Sewing Patterns are about. We also have a blog post about Printing PDF Patterns if you're having any issues.
For help with your sewing projects, make sure to come join our Facebook Group and for your supplies please visit our fabric shop over at KnitFabric.com.
Happy Sewing!