180+ Sewing Patterns for Beginners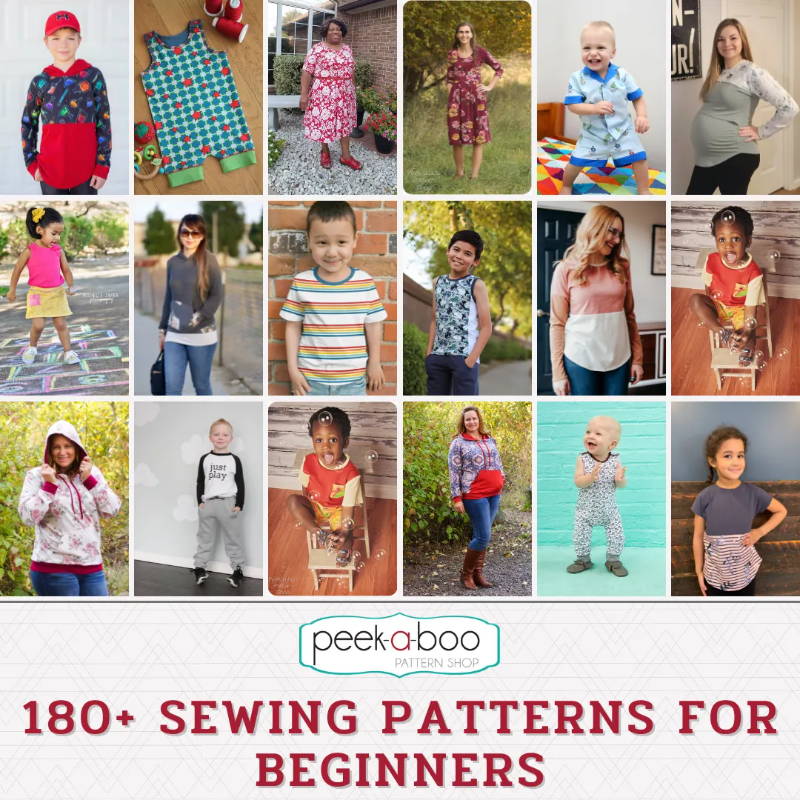 Peek-a-Boo Pattern Shop specializes in sewing patterns for beginners. In total, we have over 180 patterns that we would consider appropriate for beginners. A sewing pattern for every occasion. These aren't the sewing patterns you used growing up. Each of our patterns come with a full tutorial and color photos. Each sewing pattern also comes with layers so you can just print off the size you need. You'll find with these patterns that even a beginner can make professional looking clothing.
Our sewing patterns for beginners include patterns for each member of your family, for each season, and every occasion. If you need additional help with sewing technique, we have a number of tips available on our blog Peek-a-Boo Pages. We also have a variety of YouTube sewing tips and tutorials on our Peek-a-Boo Pattern Shop YouTube Channel that will help when using a Peek-a-Boo Pattern Shop sewing pattern.
I wish we could spotlight each sewing pattern here. Unfortunately, there just isn't the space. Click HERE to see all of our beginner sewing patterns.
A perfect resource for every beginner is our Peek-a-Boo Pattern Shop is our Facebook Group where you'll be able to get help with sewing patterns, get your sewing questions answered, get inspiration, and see our latest deals.
Women's Sewing Patterns for Beginners

Peek-a-Boo Pattern Shop has around 50 women's sewing patterns for beginners. It's always fun to sew something for yourself. I'll put the spotlight on a couple of our popular favorites. To see each and every one of our beginner sewing patterns for women click HERE.
A customer favorite is the Madrid Dress. The Madrid is an all encompassing dress pattern that includes a TON of options including: (1) Empire or Natural Waist Bodice, (2) High or Scoop Back Neckline, (3) Lined Bodice or Unlined Bodice, (4) Nursing Access, (5) Various Sleeve and Dress Lengths, and (6) Optional Pockets.
"Perfect. Very easy to follow...Thanks for making such an amazing pattern." - Steffi
"Fun easy sew. This was a super simple easy to follow quick and fun sew!" - Layna
"Fun easy sew. This was a super simple easy to follow quick and fun sew. All together cutting and sewing it took 3 hours...came out so comfy and cute mill make again." - Layna
Another popular sewing pattern for beginners is the Aspen Pullover - sewn by thousands. We also have the matching Alpental for men and The Altitude for children. The Aspen, with its unique design, is fun for beginners and no one will believe that you sewed it yourself.
"Much easier than I thought! This pattern sewed up so easy and fast. I've made the first of many to come I'm sure!" - Nancy
"Easy to follow. I'm very new at sewing and had great success in making my Aspen." - Amy
"Easy sew. It was a nice and easy pattern to follow for a beginner. I just did the basic sweatshirt with neckband, but I plan to try the other options ASAP." - Jessica
The Athena Leggings are perfect for exercise, going to the gym, or hanging around home. The sewing pattern includes: (1) Basic Leggings, (2) Side Stripe w/ Optional embelishments (bows, criss-cross, pocket), (3) Lengths: 3" Inseam Shorts, 6" Inseam Shorts, Capris, Pants, (4) Waistband Options: Yoga or Contoured, and (5) Skirt: 10" or 12" lengths.
"Great pattern. Came together easily! First time sewing leggings with pockets." - Peter
"Great leggings pattern. The instructions are fairly simple to follow and there is a pleasing variety of leggings to make from one pattern." - Rona
"Great sew! These were a farily quick sew and, as usual for PAB patterns, easy to follow instructions...I will definitely be making more." - Tammy
Girl's Beginner Sewing Patterns

We have a TON of sewing patterns for beginners that are perfect girls - in total we have around 115. These include dresses, tops, pullovers, dresses, and more.
The Juliet is packed with fun options to add a little something extra to your sewing project. Sewing pattern options include: (1) Open Back with Heart or Bow Cutout, (2) Full Coverage Back with Star, Heart, Bow, or Bunny Cutout, (3) Sleeveless, Short, 3/4 or Long Sleeves, (4) Peplum Top or Knee-length Dress, (5) Gathered or Circle Skirt, and (6) Bands or Bindings.
"Love this pattern! Lots of options to make each one unique. Very clear and easy instructions. I've made three for my daughters and the first one turned out perfectly even though I'd never made a top like this." - Cort
"Love Peek-a-Boo Patterns, very easy to follow, excellent instructions." - Barbara
The Rosemary Raglan is packed with options - you can make a different top for every day of the week. The sewing pattern includes a slim, feminine fit and includes options for a tee or peplum tunic, 3 sleeve lengths, and a hood or classic neckband. This quick sew is a great beginner sewing project.
"I am new to sewing knits, and this pattern was perfect. It came out so cute and easy to sew." - Nancy
"I was really impressed. The instructions from cuttin gthe pattern pages to sewing the garment were very clear. I am relatively new to sewing clothing and these shirts turned out well. I look forward to trying out more patterns." - Sue
"Love it! This is such a cute top with lots of variations." - Carol
The Dreamland Nightgown has a gathered skirt with ruffled hemline and features options for short or long sleeves and knee length or full length skirt. There's an identical neckline in the front and back which makes for simple dressing.
"Perfect Nightgown pattern! I was on the hunt for a knit nightgown pattern and struck luck with this one! It was easy to put together and is going to be perfect for sewing Christmas nightgowns for my nieces." - McCrea
"So cute. I really enjoyed sewig this for my grandaughter. It was easy and cute!" - Connie
"Great pattern, easy! This pattern was very easy to make and my daughter loves the long length and ruffle." - Tabitha
Easy Sewing Patterns for Boys

Many of our boys beginner sewing patterns are unisex and work well for both boys and girls.
The Grand Slam Tee and Dress is a great go-to sewing pattern for beginners. It works well for everyday wear and is a quick sew. The sewing pattern has options for: (1) Tee, Tunic, or Dress, (2) Short, 3/4, and Long Sleeves, and (3) Neckband or Hood.
"Love it! Such a fun easy pattern that looks great on my son. Can't wait to make the dress for my daughter." - Alyson
"Easy Peasy Sew. So easy and quick to make. I've made 6 or 7 with Halloween fabric. So cute!" - Penny
"Time saving simple sew! The grand slam tee was the perfect quick sew that is one of the fastest sews ever." - Randy
The Happy Feet Pajamas will be a hit with any child. The pattern is a 2-piece set with a top and footed bottoms. The sewing pattern also includes bonus instructions for adding snaps to keep the shirt tucked in. No more chilly feet! You'll love how simple this is to sew.
"Great Pattern. Super easy-to-follow directions and the pattern pieces are easy to piece together from the PDF provided. Sewing them up is fast and easy too." - Cara
"Fun and easy PJ. My first PAB pattern and I am loving it. Happy Feet is quick, fun, and easy footie pajamas. New to sewing? Don't worry - the instructions explain step by step and there is an active group to help with any additional questions." - Miki
The Hudson has a ton of fun options to mix and match for anytime of the year. You can use scraps to make a one of a kind creation. The sewing pattern includes a variety of options and sizes, including a basic pullover with kangaroo pocket, pullover with various colorblocking optios, tank, short, sleeves, hood, and bottom band or hem.
"My new favorite pattern. This is a very easy and great pattern. I made a t-shirt and tank top for my son and love them both. I see many more in the future!" - Nancy
"I absolutely love this pattern. It was easier to sew, especially the sleeves! I really don't like sewing on sleeves much, but this pattern made it simple for me..." - Tamara
They may not be first on your sewing list, but you'll be surprised how much men appreciate handmaid clothing. We have lots of sewing patterns for beginners that are designed for men.
A newer beginner sewing pattern, designed for men, is the Men's Night Owl PJ's - there also a women's version HERE. The Night Owl PJ's are a quick sewing project and use some fun coloring blocking. They have options for pants, shorts, and a top with short or long sleeves.
"Amazing. From the easy pattern instructions to the ease of sewing with the recommended fabric. Everything was perfect from start to finish and actually a rather quick sew! Always loved PAB Patterns and will be back." - Christy
The Rocky Mountain Raglan includes short, 3/4 and long sleeves. The raglan sleeves are simple to sew and provide a great opportunity for color blocking.
"Sew easy! This is a great pattern for beginners! I followed the sizing guide, and the shirt fits my husband perfectly. perfect for an afternoon sewing therapy session." - Watoo
"This is a great base pattern to start sewing for your guy. The instructions were easy to follow..." - Abigail
"This is one of the easiest patterns eer and the styling is excellent."
The Backcountry Balaclava helps you keep warm on really cold days. The sewing pattern features a snug fiiting cap with attached mask that can be worn over the nose, on the chin, or below the chin. It's perfect for winter sport and activities.
"I love all patterns peek-a-boo! Made one balaclava and plan to make a few more here within the week for family." - Renee
"This pattern is fun to make! It goes together easily, can be made with a variety of fabric types and patterns, is great for a variety of activities and it fits well." - Jeanne
Beginner Patterns for Baby

Sewing for baby is no problem with our easy sewing patterns, including the following:
The Lap Neck Knotted Gown will help keep your little ones warm and cozy. It has a lap neckline and knotted bottom to make dressing and diaper changes quick. It also includes your choice of a lined or bound tail and foldover or basic cuffs.
"Great pattern! Easy to follow pattern with great pictures to guide even a person new to sewing!" - Marcy
"Just what I expected from a Peek-a-Boo Pattern...clear instructions and an adorable finished project! While I made this as a gift, I expect the knotted bottom would make middle of the night diaper changes much easier for a tired parent. Happy with purchase. Definitely reccomend." - Melissa
You can keep the whole famlies feet cozy with the Blitzen Booties. This is a quick sew. The Blitzen Booties are fully lined and fasten with a snap or velcro. It includes optional heel elastic to keep the booties on wiggly feet.
The Blitzen Booties can made from cozy knit or woven fabrics on the exterior and a variety of cozy fabrics for the lining like Fleece, Minky, or Fur.
"Great pattern. This pattern was so good and easy to understand. I will make a lot of them." - Trude
"The sewing went easier than anticipated. I've made 3 paris now...Thank you for a great pattern." - Patricia
The Lullaby Line Bodysuit is the perfect building block for baby's clothes. It features a slim fit perfect for layering. Options include: Bodysuit , lap tee, bodysuit with built-in dress/peplum, dress/peplum, and short or long sleeves.
"Super quick sew and very cute. I enjoyed sewing this pattern. It came together very quickly....I really like the style very easy to get on and off my little baby." - Sarah
"So cute and easy! I never thought sewing a onesie would be this easy. I've tried free patterns for lap tees before and always ran into issues with the neck being too high or things being uneven. This pattern made it so simple..." - Molly
A Free Sewing Pattern for Beginners

Finally, we have some excellent FREE sewing patterns for beginners to help you get started on your sewing journey. All of the sewing patterns in our Freebies Section are free when you sign up for our Newsletter HERE.
For now, I'll just mention one - the Romperalls. The Romperalls are a quick sew and you'll love making one for all the little ones you know. They snap at the shoulder for easy dressing and are partially lined. They includes options for pants or shorts and can be worn on their own or layered over a shirt for cooler weather.
Sewing Support in our Facebook Group
As I said at the beginning, we have over 180 easy sewing patterns that work well for a beginner. We can't feature them all in this guide. Luckily, you can see all of them by clicking HERE. As you can see, sewing doesn't have to be difficult with Peek-a-Boo. With over 180 easy patterns for beginners we have someting for everyone and you'll be impressed at the sewing projects you create.
If you enjoyed learning about these sewing patterns you might also enjoy our Skirt Pattern Sewing Guide or our more general Sewing Pattern Guide.
I hope you enjoyed our sewing patterns for beginners guide. For your fabric needs, make sure to come join us at www.KnitFabric.com. Also, please come join the Peek-a-Boo Pattern Shop Facebook Group where you can get inspiration, get sewing help, and share all of your creations.