Top Pants Patterns | Hundreds of Sewing Patterns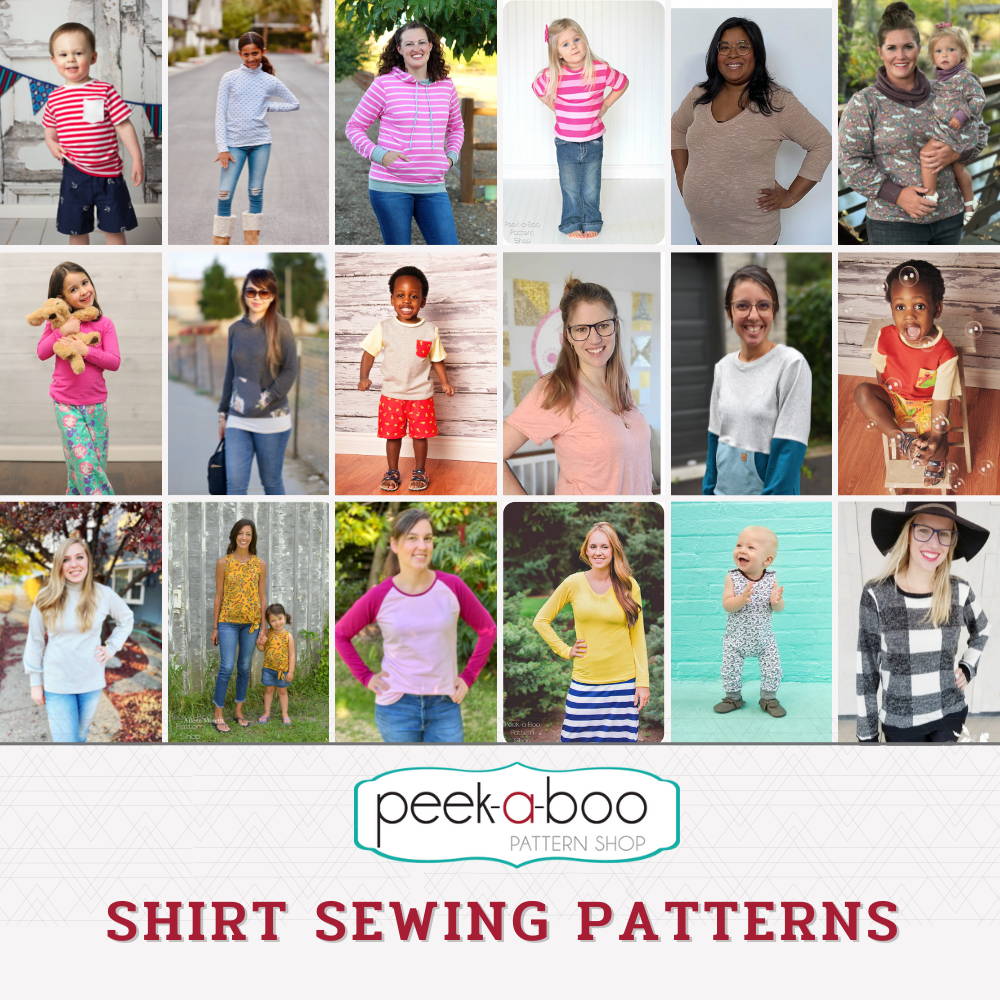 We have a wide variety of pants patterns for women, men, and children. Our pants options include lougewear, exercise wear, and shorts options for summer weather. We also have a variety of pajamas pants you can make. This article is mean to give a brief overview of some of our popular pants sewing patterns.
This article is not meant as a comprehensive guide to our pants patterns. You'll need to visit our pants pattern section HERE for a more comprehensive list that you can sort by skill level, fabric type, etc.
Our patterns at Peek-a-Boo Pattern Shop all come with a full tutorial and detailed color photos in an easy to print PDF. Also, please come join our Peek-a-Boo Patter Facebook Group to share what patterns you are making and see everyone else's sewing projects:
Here are a few favorite shirt patterns for women:
Java Joggers Pants Pattern
We'll start with our most popular pants pattern - the Java Joggers. They are semi-fitted and are stylish and comfortable. Also includes optional pockets for a cell phone. Options include
5 Pants Lengths: Pants, Capris, 3 Shorts Lengths

2 Waistbands: Knit w/ Elastic and Yoga

Optional Pockets with Binding or Band
Also make sure to get the matching Jackson Jogger pants for Men and Jordan Jogger Pants for Children.
"Super fit!!! Wow! Super simple instructions - lots of modification options- And the fit is so good!!! Just wow!! no alternations needed!! I really like it!! - Gal
"Love!! I finally found a joggers pattern where I had to do no modifications!! I'm sooooo happy I found them. They are low rise to my liking, legs fit perfectly and true to size, and the length for my short legs are perfect. I'm so so happy with this pattern." - Joy
The Athena Leggings Pants pattern for women is perfect for the gym, runing errands, or wearing at home. The pattern includes several options for:
View A: basic leggings

View B: Side stripe w/ optional embellishments (bows, criss-cross, pocket)

Lengths: 3" inseam shorts, 6" inseam shorts, capris, pants

Waistband Options: Yoga or Contoured (standard or high rise)

Skirt: 10" or 12" lengths (measurement excludes the waistband)
Also get the matching Agility Leggings for Girls.
"Great sew. These were a fairly quick sew and, as usual for PAB patterns, easy to follow instructions. Made them for my oldest granddaughter—a tall 12yo—out of cotton Lycra. She says they are super comfortable, and refuses to wear them to sleepovers for fear someone will snag them. 😂 I will definitely be making more." - Tammy
Another popular pants pattern for women is the Yoga Mom Pants, Capris, & Shorts. These are the perfect pants if you're a busy mom on the go.
Tweens and teens can also pick up the Yoga Girls pants pattern.
"Easy to make and very comfortable. I made the pants version and I absolutely love them. They are a very quick sew even for a beginner like me and the pattern is very detailed. The fit perfectly. Thank you" - Steffi
"Pregnant and comfortable. I love these pants! I needed something that fit under my 34 week pregnant belly without it being too tight. These are perfect in my prepregnancy size AND I think they will fit after having the baby. I have two pairs already!" - Beth
Brilliant pattern. Very quick sew and looks very good." - Sara-Jane
Boys & Girls Pants Sewing Patterns

The Rough N' Tumble Pants are the perfect sewing pattern to sew up some simple pants for your girl or boy. They have a elasticized waist with faux drawstring, patch front pockets, faux fly, back welt pockets, optional knee patches and 2 hem options.
These are designed for either knit or woven fabric.
"Love this pattern. This is a great pattern - easy to make and came out perfectly on my first try. Will definitely be making more for my grandsons!" - Gretchen
"Coolest kid pants. I've made so many of these pants for my son and friend's children. They're so durably made and the extra steps like topstitching makes them look very professional." - Ayla
Classic Chinos Pants Pattern
The Classic Chinos are perfect for sewing uppp pants for a nice occasion but also work well for play. The pants sewing pattern includes the following:
Pants or Shorts length

Non-stretch waistband with zipper and button/snap closure; elastic in back provides the perfect fit

Knit waistband with enclosed elastic and faux fly

Straight Leg or Slim Leg

Optional welt pockets in back and slant pockets in front

Optional belt loops
"Chinos for children. This is a great pattern: there are very clear instructions and the pants fit well and look really professional." - Kathleen
The Essential Sweats is the perfect lougewear or exercisewear pant for any kid. You can't beat how comforatble these are! They have a semi-fitted leg, optional pockets, elastic waistband with optional drawstring, pants with a standard or elastic hem, or shorts.
"Quick sew, fun pattern. I've already made a half dozen of these pants, in several sizes, since I bought the pattern. They are a quick sew, even with adding some embellishments like side stripes. They fit my kids well, and I will be making many more pairs for them to get ready for our new school year. They are a great basic for play and pajamas." - Noelle
Perfect for all ages! I have been waiting for a sweat pant pattern with this fit for a long time. They fit a large range of body types and has a great size range. I have always found Peekaboo patterns to be drafted well, and have clear instructions with excellent photo references! - Shelly
Patterns for Baby's Pants

Don't leave out the babies. We have some fun bottoms options for baby pants:
The Happy Buns Britches are a popular pants pattern for kids up to size 4T. They featrue a back panel, cuffs, a knit or elastic waistband, and a cloth diaper cut in sizes up to 4T. They also have a fun ruffle buns variation.
"Best leggings patern I have found yet! Love this pattern. Just started sewing and this was very easy to understand. Love the help pictures in with the instructions. Have made a few pairs and all fit great!!"
"Love this pattern! These little pants turned out so cute! As with all the peek-a-boo patterns I've purchased, this pattern was really easy to follow...thank you for a great pattern." - Alisa
The Chicka Chicka Bum Bums are an all encomassing outfit packed with options for longe wear, pjs, dancewear, and swimswear. Options include bummies, shorties, skirted bummies or shorties, diaper cut, undies cut, 3 waistband options, and an optional faux drawstring.
Necklines: Crew, Scoop, V-Neck and Hood

Sleeves: Tank, Short Long (with or without cuffs)
"Bummies are fun.

I love sewing the pattern! I am 60 years old and hadn't sewed much since high school. With one year old grandbaby girls, I got the sewing bug and decided to try to sew again. My first pattern was the CCBB pattern. So far I have made five pairs, 2 for my grands and 3 for gifts! They are so quick to whip up and so cute on!! - Robin
We have a number of great overalls patterns but these Lullaby Line Overalls are specifically made to serve as pants for the little ones. They have a comfy loose fit and can be sewn with knit or woven. Options include:
Pants or Shorts length

Standard Bib, Rounded Bib, or Rounded Bib with Ruffle

Optional Snap Inseam for easy diaper changes
"Really easy and quick. This pattern was a life saver when my little one worked out how to get his pants off. Reasonably quick sew with not too many pieces." - Bronwyn
"Very cute. I whipped this up for my son and got tons of compliments." - Kendel
Patterns for Pajama Pants

Sewing up pants doesn't have to stop when the sun goes down. Here's a few good options for pajama pants:
The Hit the Hay Pajama Pants are made for men and women (and tweens). They can be made from knit or woven fabric - knit, fleece, flannel, etc. Sew them up with pockets or skip the side seams completely if you want. The waistband is elastic with optional drawstring.
"Good fit. I made multiple pairs of flannel pajama pants in different sizes. Pattern was spot on for the person that knew their size." - Leandra
"Great pattern. The fit is perfect - add pockets, or not. Easy to follow and a quick sew! Peek-a-boo is definitely my go to pattern store with over 30 patterns in my files." - Marcia
The Happy Feet Pajama Pants will be a big hit with your kids. It includes a 2-piece set with top and footed bottoms. The pattern includes instructions for adding snaps to keep the shirt tucked in.
"The pattern was perfect, I was looking for a size 4 pajama bottom and couldn't find any with feet....but now I have the pattern to make them until she is 12. Easy to follow and trace, excellent value as well." - Jennifer
"Sew sew fun. This pattern is an easy sew and very versital. Two pieces make it an easy fit for growing children." - Jeanne
Toasty Toes Convertible Pajamas
The Toasty Toes has a convertible cuff that can be worn as a standard cuff or a footie! The bottoms are finished with a comfy knit waistband. The sleeves can be finished with a standard cuff, thumbhole cuff, or convertible cuff.
"Super cute!! Lovely pattern! I love the dependability of a straight forward Peek-a-boo Pattern!" - Elizabeth
"LOOOOOVE. This pattern was great. Easy to follow, detailed and concise! My kids LOVE their toasty toes. This is the first pattern I've purchased new in over 2 years, and my first pattern from PAB, it won't be my last." - Tara
If you're making pants for cooler weather we have you covered there too with these great shorts options:
The Women's Momentum Shorts are our newest shorts pattern. They're designed for an acvite life and include optional pockets and a built-in brief or leggings lining. Options include:
2-in-1 Shorts: Loose fitting outer shorts with optional pockets and your choice of lining

Shorts with optional pockets

Leggings with contoured waistband: Basic or pocket leggings with 3 inseam lengths.
"Awesome. I got to test this pattern. It was amazing. My daughter and I have several pairs now 🤣. Such a fast and easy so and great for biking or swim as well" - Kimberly
The Beachcomber Shorts pattern features optional front pockets and a cuffed hem. Options include paper-bag or standard waist and shortie or bermuda length. You can also add optional piping or trim along the pocket opening and cuffs. Make these with knit or woven fabric.
"Love these. Super easy pattern. I did make the pockets deeper so matchbox cards and/or trains would fit.
"Great pattern. Love this pattern. So easy to make! And the pockets are great. I've made 8 pairs for my boys this summer so far." - Jolene
The last entry in our pants pattern post are the Summer Lovin' Shorts. They can again be made with knit or woven fabric and include options for a 4", 6" or 12" inseam. You can also make front slant pockets and optional back pocekts to give you room to store keys and phone.
"Happy with this pattern. This pattern is very straight forward and easy to make. Luckily the fit was just right!!" - Pat
"I love it. As always peek a boo these shorts were a breeze to put together and give perfect results! Absolutely love them." - Gaynor
Get More Help in Our Pattern Shop Facebook Group