Pajama Pattern | Sewing Patterns for Pajamas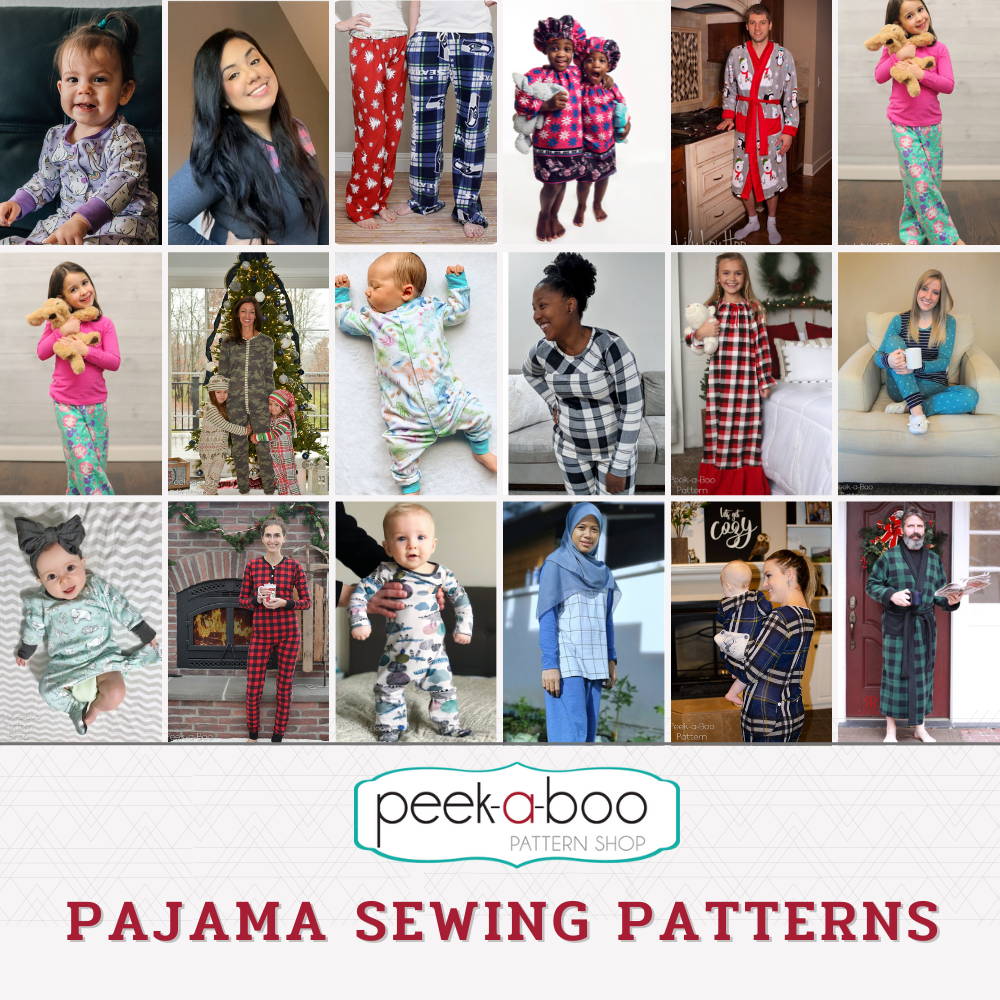 Pajama patterns have always been our bread and butter at Peek-a-Boo Pattern Shop. A good pajama pattern can be sewn up quickly and easily. We have several different options in our pj arsenal for you to take a look at. This post is meant to help you go through some of our most popular pajama sewing patterns to see which one might be right for you.
We'll also try to show you which fabric might be best for your pajama sewing project. We have some amazing fabrics perfect for pajamas over in our shop KnitFabric.com.
This guide is not meant to be a comprehensive guide of all of our pajamas patterns - just some of the most popular ones. To see what our customers are sewing, get help with your sewing projects, and share what you make yourself, make sure to come join us over in our Peek-a-Boo Patter Facebook Group.
We'll start off with the girls. Most of our children's pajama patterns work well for boys or girls. That being said, we have a number of nightgown patterns that are designed for girls. Here's a few of the most popular ones:
The Clara Nightgown is a quick and easy sew that features a classic peasant silhouette with raglan sleeves and an elastic neckline. It can be made with knit or woven fabric and has the following options:
Full or Knee Length

Long or Short Sleeves

Optional Ruffle

Optional Decorative Bow
"So cute and easy. My two year old started boycotting pants, so I'm leaning into it and making her some dresses and nightgowns. I am a beginner—this is only the second thing I've ever sewed. This pattern is so cute and easy, and my very picky daughter loved it. Win win!" - Clara
"Such an easy/quick sew! My daughter loves wearing nightgowns. I love that this has the different sleeve options and lengths so that she can have nightgowns for all the seasons." - Janelle
The Silver Bells Nightgown pattern will get you ready for Christmas. It can also be made from knit or woven fabric. As far as options, this winter nightgown pattern includes 2 dress lengths and 2 sleeve lengths. It also features a front yoke, gathered sleeves with elasticized hem and button closure back for non-stretch fabrics.
"My daughter feels like a princess. I had the pleasure of testing this pattern. I have made two so far, both in flannel. I love that the bib portion is a blank canvas for embellishing however you choose. The long nightgown makes my daughter feel like a princess. This pattern is very versatile. I highly recommend it." - Felicia
Easy sew, beautiful results. I loved this pattern. So easy and such an adorable night gown." - Mary
"Surprisingly easy sew! I was surprised by how easy this pattern came together." -FMercer
Dreamland Nightgown Pattern
The Dreamland Nightgown features a gathered skirt with ruffled hemline and has options for short or long sleeves, knee length, or full skirt length. There is an identical neckline in the front and back - this makes it super easy for kids to take on and off by themselves. No more backwards PJs!
"Pattern was so easy to print, assemble, read and make nightgown. Will be making many more of these. Also, will be purchasing the Clara nightgown for flannel options." - Donna
"Perfect Nightgown Pattern! I was on the hunt for a knit nightgown pattern and struck luck with this one! It was easy to put together and is going to be perfect for sewing Christmas nightgowns for my nieces!" - McCrea
"Easy sew, daughter loves it! This is a great pattern. I love that it doesn't have a front or a back - easy dressing! I made the shorter version and thought the fit was good, very close to RTW size. My daughter loves to sleep in it! - Kristy
Children's Pajama Sewing Patterns

As noted, these pajama patterns will generally work equally well for boys or girls:
The Kid's Night Owl PJs are a quick and easy sew with fun colorblocking. They include pattern options for pants, shorts, top with short or long sleevse & a nightgown with short or long sleeves. Also check out the men and women's versions below.
"Absolutely amazing! This pattern was easy to follow, super quick, and true to size!" - Kristen
"Easy and comfortable PJs. Having made at least 100 pairs of Alex and Anna PJ's it was fun to try and new pattern. The Night owls are quicker as you can omit the cuffs. I also liked the color block option." - Elizabeth
"Perfect PJ Pattern! This pattern is the perfect PJ pattern! It is perfect for using with panels. It is an easy, quick sew. My grandkids all say this is their new favorite PJs. I see making many more in the future!" - Kysa
The Classic Zipper PJs are your classic "footie pajama." This pajama pattern is perfect for anytime of the year and includes options for footed pajamas, cuffed pajamas, 2 sleeve lengths, and 2 leg lengths. It also comes with an optional zipper shield to protect the skin.
Recommended fabric is knit or fleece.
"Great make and instructions. Excellent instructions, well thought out pattern and beautiful final result. I've practiced a few times now, getting easier each time. " - Katherine
"Wonderful pattern, easy to use. I'm am just starting out with sewing i've made a few projects before but this pattern made it so easy to make these lovely pjs my boys loved them and the instructions are super easy to follow." - Miranda
The Happy Feet Pajama pattern will be a big hit. This is a 2-piece pajama pattern with a top and footed bottoms. It includes options and instructions for adding snaps to keep the shirt tucked in. No more chilly feet!
"Love this pattern.Ive been blessed this year with three new babies and this pattern is perfect. Great instructions so easy to make." - Marty
"Best PJs ever! I love these jammies!... it's potty training GOLD not having to mess with one piece zip-ups in the middle of the night. Just don't forget to put a ribbon or tag in the pants' waistband, or you might have a very confused toddler trying to put their footies on backwards. (Haha!). I've bought a few more patterns from this shop, and I check here first when I need a new pattern. They're such a great investment, I am one happy customer!" - Stacy
The Alex & Anna Pajama Pattern includes options for pants, shorts, long sleeve top, short sleeve top, and a tank top. You can mix and match to make the perfect pajamas for summer or winter. These are a super quick sew and have been a top selling pattern for many years.
These have also been the base for many costumes I've made like The Flash or PJ Masks.
"Easy to make!My kids love their new pajamas! The pattern was easy to follow and quick to make. Will definitely be making many more in the future!" - Ashley
"Simple pattern to make.This pattern was easy with good instructions. My granddaughter loved these pj's." - Susan
The Cozy Kid Coveralls includes options for a neckband or hood and footies or cuffs. It will keep your kids cozy and has a snap closure and raglan sleeves.
"I love the pattern, easy to follow instructions and is very cute when finished." - Cheryl
"Always a pleasure! Very easy to follow and piece together.. this is probably the 3rd or 4th pattern I've used from Peek-a-Boo patterns and I'm never disappointed!" - Cristina
"Love it. Awesome...I'm excited to make matching PJ's for all occasions!" - Mary
The Lil' Long Johns features classic long john styling with a back flap and button-up front. Options include:
Partial or Full Front Placket

Snap Inseam for Easy Diaper Changes

Faux Flap or Functional Flap
"They are fantastic, great sew and great fit." - Cathie
"Instructions were clear and easy to follow. The video showing how to make the placket was super helpful. I'm a beginner but I created something really cool because it was easy to follow along!" - Mara
On to the women's pajama patterns. We have a women's pajama pattern for about every seaon and style. Here's a few of our favorites:
The Beauty Sleep PJs pattern for women's pajamas includes a top and bottom. They are meant to be snug fitting with cuffed sleeves and bottoms and a banded neckline. The bottoms have an elastic waist.
"So comfy!!! GREAT pattern, the instructions are very clear easy to follow. They fit is great as well. This was a quick sew I will be making more." - Jodi
"Surprised. This pattern was a huge surprise for me I didn't expect these to fit great as I thought they were to slim, however they fit perfectly and are so comfy I could stay in them all day thank you for a great pattern." - Carmen
Like the Kid's version above, the Women's Night Owl PJs are a quick and easy sew with fun colorblocking. This version includes pants, shorts (3", 6", or 9" inseam), top with short or long sleeves & a nightgown with short or long sleeves.
"This was a very easy sew for me. I love the pattern itself...I made the nightgown and was able to get it doen in about two hours...the fit was perfect...it's super comfy which is a must when it comes to sleepwear. I will be using this pattern over and over. Try it! You're going to love it....From putting it together to wearing it." - Joy
The Adult Long Johns sewing pattern will be perfect for men or women. Like the Lil' Long Johns above they have classic styling with a front placket and flap in back. You can choose from a full or partial placket and a fauz or functional back flap.
"Awesome jammies!! My grandaughter loves them. My granddaughter is 8 and wears a child 14. I followed the instructions on the pattern for adjusting the girth and the length. I made adjustments in the upper body, the legs and the sleeves. The pajamas fit perfectly. I am getting ready to make a few more pairs." - Dee
Your husband will love homemade pajamas - trust me. Two of these featured patterns are designed for women too and then we, once again, have some night owl pjs (without the nightgown option!).
The Riverside Robe has options for a hood or cowl and above knee or full length. This is a unisex pattern and makes a great gift!
"Lovely sew. Best for me was the projector file. I will be adding the kids version to my list of patterns." - Michelle
"Amazing, and SO much better than RTW! I LOVE this pattern! I've used many Peek-a-Boo patterns to varying degrees of success, but this one is particularly fantastic. The robes it makes look professional and are very well-built. I've made 3 of them now (with 2 more in the works) and they've all come out better than I could have hoped. Definitely a must-have pattern for your collection." - Stephani
Like the Women's and Kid's versions above, the Men's Night Owl PJs are a quick and easy sew iwth color blocking. Options include patns, shorts, and a top with short or long sleeves.
Recommended fabrics include cotton lycra, french terry, waffle, micro fleece, etc.
"Amazing. From the easy pattern instructions to the ease of seeing with the recommended fabric! Everything was perfect from a start to finish and actually a rather quick sew! Always loved PAB patterns and will be back from sure xoxo." - Christy
"Very easy to make yet stylish. Excellent. Five Stars." - Mary
Sew up some comfortable pajama pants for men or women with the Hit the Hay Pajama pattern. Make these from knit or woven fabric. Pattern includes options for side seam pockets. The waistband is elastic with optional drawstring and featrues a contrast lining which can be rolled once for a lower rise.
"My new go to PJ pant pattern! Well written, projector file was easy to use. Fit was perfect!" - Bobbi
"Great pattern. The fit is perfect - add pockets, or not. Easy to follow and a quick sew! Peek-a-boo is definitely my go to pattern store with over 30 patterns in my files." - Marcia
Don't forget baby pajamas! These make great gifts and your babies will be spending tons of time in them:
Switcheroo Convertible Gown
The Switcheroo converts from a baby gown to a romper with just a few snaps. You can keep your baby sleeping while you switch from a baby gown to a romper, so you can place baby wherever you need to without a full outfit change. Makes for easy diaper changes too!
"Great pattern! Loved making the switcheroo romper. Instructions were detailed and easy to follow, everything assembled quite quickly. Great for gifts!" - Valerie
"Made this for my great nephew. His mom liked it because it would convert to a gown for easy nighttime diaper changes. Then during the day they used it with the legs. The pattern is well thought out, easy to understand and goes together pretty quickly. Another stellar pattern from PAB. I'll be making more, as this pattern is going to be my go to pattern for baby gifts." - Julie
Lullaby Line Zip Inseam Pajamas
The Zip Inseam Pajamas make diaper changes quick and easy. You don't have to mess with snaps in the middle of the night - just use a zipper. The pattern even includes a helpful video:They include the following options:
Cuffs or Footies

Standard or Lap Neck

Short

Long Sleeves with Standard or Foldover Cuff
"Sweet PJs for baby. Instructions were accurate and easy to understand. The pattern came together quickly and is so sweet. I made 0-3 months. and 3-6months. The zipper was not a problem at all." - Amy
"So easy with youtube tutorial. As a newer sewist, the pattern and direction was great. Everything was easy!" - Kayla
The Lullaby Line Baby Gown is a wardrobe staple for any new baby. There's a lap closure at the shoulders and elastic hemline. These make dressing and diaper changes super quick and easy. The sleeves fold-over to keep little hands warm and prevent accidental scratching.
"Quick and Easy diaper changes. Awesome pattern. Haven't had a chance to make yet but looking forward to it. Looks like an easy straight forward pattern to sew." - Avril
"I love, love, love this gown!! Easy to follow instructions make it an enjoyable piece to construct and make. I used cotton lycra for six of them in a newborn size and then I used French Terry for three in the 3-6 month size. They all turned out so cute! Thanks for the great pattern!!" - Tammy
If you're just getting started, we have a free kid's pajama pattern to help get you started - the Pajama Party Pants. You can get the code to get it for free by signing up for our newsletter HERE.
The Pajama Party pants is an an easy pattern that's great for beginners. They have optional pockets nad a higher rise in the back for the perfect fit.
PDF Sewing Support in our Facebook Group
I sure hope you enjoyed going over each of these pajama patterns with us today. It's time to start sewing! If you enjoyed this guide, take a look at our guide to Pants Patterns or Underwear Patterns too.
Sewing for your family is easy when you use our patterns here at Peek-a-Boo Pattern Shop. We apprecite your business!
Happy sewing!