Peek-a-Boo Pattern Shop has the perfect maxi dress patterns for women and girls. Our maxi's are some of our top selling dress patterns. This guide will go over the features of the Madrid (Maxi Dress for Women) and the Melanie (Maxi Dress for girls). It will also give you a glimpse at just how much our customers love to make these patterns.
Make sure to pick up your copy of the Madrid Maxi for Women and Melanie Maxi for Girls today. After you sew up your project, please come share it with us in the Peek-a-Boo Pattern Shop Facebook Group. In our Facebook Group we provide 24/7 assistance so you can get help with whatever you are sewing.
These patterns are also designed for knit fabric. For your knit fabric needs, make sure to come see us at www.knitfabric.com, where we offer higher quality fabrics, at better prices, with flat rate shipping.
Maxi Dress Patterns for Women

The Madrid Maxi is currently our top selling women's dress pattern. Depending on the options you choose, it's really perfect for sewing something for every day of the year. Our customers love the options, versatility, and how easy this is to sew while getting a professional looking product in the end.
Speaking of options and versatility - the Madrid has a TON of options to make, including: (1) Empire or Natural Waist Bodice, (2) High or Scoop Back Neckline, (3) Lined Bodice or Unlined Bodice with Bindings, (4) Sleeveless, Short, Elbow, 3/4 or Long Sleeves, (5) Peplum, Knee-length or Maxi Dress; (6) Gathered or A-Line Skirt, and (7) Optional Inseam Pockets.
The Madrid Maxi also includes a nursing access option and is maternity friendly.
Sew the Madrid Maxi Dress
Our customers can't get enough of this dress:
"Excellent! I love this pattern. I found the idea of making a maxi dress daunting but the instructions are so clear and easy to follow that I made 3 dresses without a problem! I have made 3 different sizes and the fit and shape on each person is excellent. I will be making many more!" - Rhiannon
"Itching to get stitching! I love Peek-a-Boo Patterns, can't wait to make this dress. The patterns are always so easy to follow." - Paul
"Love this pattern, great directions, made two peplum tops, ready to make the maxi now!!" - Mary Ellen
"Just finished sewing a third dress for my daughter. She loves the style and fit." - Bridgett
"Absolutely perfect maxi dress pattern! Already made two of these." - Mona
"This was a super simple easy to follow and quick and fun sew! All together cutting and sewing it took about 3 hours...came out so comfy and cute will make again!" - Layna
Maxi Dress Sewing Pattern for Girls

Don't forget to make a Maxi Dress for the Girls. The Melanie Maxi Dress for Girls is the matching pattern to the Madrid and is again, a dress packed with options. In fact, with this pattern you could make 144 different dresses for anytime of the year and any occasion. Again, our customers love the clear instructions and how easy it is to make professional looking clothing with these patterns.
This Maxi includes options for sewing: (1) Standard or Scoop Back, (2) Sleeveless, Short, 3/4 or Long Sleeves, (3) Optional Flutter Sleeves, (4) Peplum, Knee-length or Maxi Dress, and (5) Gathered, A-line or Twirl Skirt.
The Melanie Maxi is another hit dress:
"Maxi Marvelous! This pattern was easy to print, instructions were easy to follow, and the dress is darling! My 5-year old granddaughter will love it!" - Pamela
"Love this derss. This was the first dress I've ever made. I started sewing a month ago and the dress was easy to make." - Kayla
"I love these patterns, overall best of the best, easiest to understand. I go here first when I'm looking for patterns and fabric." - Diana
"Loved thid dress pattern. It was easy to follow and has a nice finished look to the bodice which is unusual with this type od dres. Very pretty dress...I love Peek-a-Boo Patterns." - Vanessa
"I am confident this ONE pattern will help me get over my serves by just sewing with this wonderfully designed pattern!" - Danita
"Melanie Maxi Dress. I enjoyed using this pattern to make dresses for my granddaughter. Went together easily." - Melissa
Using our PDF Sewing Patterns
Are you new to PDF Sewing Patterns? No worries...I'll explain a bit about the digital sewing pattern revolution. PDF Sewing Patterns have a lot of advantages over traditional tissue like paper patterns that you can buy in the store. First, you can re-print them as many times as you want. When you purchase a pattern from Peek-a-Boo Pattern Shop, you'll receive an account on our website where all of your patterns were will be stored. You can log into your account and print your sewing patterns as many times as you want.
Second, most of our sewing patterns - including both of the Maxi Dress Patterns featured above, include layers. This means that you only have to print the size you want. When you print the pattern, you can print it on regular printer paper which is far more durable than a tissue paper pattern. Finally, most of our patterns, including the maxi skirts, have projector files. Many people are buying projectors that they can mount from their ceiling and use to project pattern pieces onto fabric while they cut them.
Our PDF Sewing Patterns come with a full tutorial and color photos in an easy to print PDF. The Pattern pieces are computer generated and color coded for easy cutting. These Maxi Dress Patterns also include layers so you can just print off the size you need. They also include an A0 format for printing at a copy shop and a projector format.
If you'd like some more info check out our tutorial on PDF Sewing Patterns.
Choosing Fabric for Your Maxi Dress
A Maxi is best made out of knit fabric with at least 40% and 2-way stretch. Luckily, we have our sister shop KnitFabric.com that stocks a wide variety of different fabrics that are perfect for such a dress. These fabrics include the following:
Cotton Lycra:

Our most popular fabric at KnitFabric.com is cotton lycra. It has 4-way stretch and a soft hand. It's a comfortable and versatile fabric and a very popular fabric for the maxi.

Double Brushed Poly:

Double brushed poly is brushed on both sides, which gives it an extremely soft hand perfect for a dress. It's medium weight fabri that is super soft and comfrotable to wear.

French Terry:

If you're looking to make something a little warmer, you might try french terry for your dress. It has a smooth surface on the right side and loops on the wrong side. It's a warmer and a little bit heavier fabric that works well for colder weather.
Tips for Sewing with Knit Fabric
If you're looking to make a very simple dress we have a very simple and free DIY Maxi Skirt Tutorial over at our blog Peek-a-Boo Pages. This is a very simple dress tutorial where we go over how to construct a basic maxi. This does not include pattern pieces but includes basic instructions on how one can construct a maxi.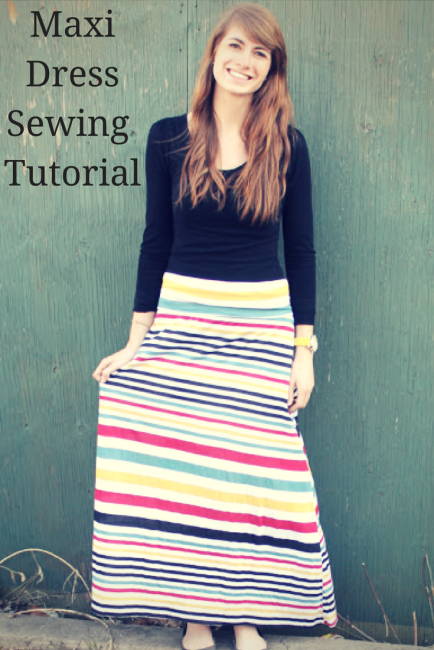 Other Dress Patterns and Options
Our Maxi Dress Patterns are just the tip of the iceburg at Peek-a-Boo Pattern Shop. In fact, we have over 65 different dress patterns. You can sort through all of our Women's Dress Patterns and all of our Girl's Dress Patterns to find the perfect option. Again, there are dress patterns for every season, every occasion, every skill level, and every fabric type.
I might just shine the spotlight on three of our most popular dress patterns. These include:
The Rio Racerback is the perfect go-to outfit for summer day. It's features classic racerback styling to keep your little one cool and comfortable the whole day. You can make options for: (1) Tank Dress, (2) Tank Top, (3) Dress with Gathered Skirt, (4) Plain or Gathered Front Neckline, (5) Optional Bow, and (6) Bands or Bindings.
We also have the matching Vitality Racerback for Women.
Our customers love sewing it:
"I've been sewing for years but never really used patterns. I found this one very easy to understand. It was a quick sew and looks wonderful. Will make my daughter many many more." - Janelle
"The pattern was simple and sewing instructions were quite clear. I was nervous about trying knit project but this pattern was easy and enjoyable. Definitely recommend!" - Roxann
The Women's Everyday Dress Pattern is perfect for sewing a go-to dress for anytime of the year. It features a modest neckline, semi-fitted bodice, and loads of options for sleeves, lengths, hood, pockets, etc. You can also make it with nursing access.
Also, be sure to make the Everyday Dress for Girls.
Our customers love to make it:
"The perfect dress! I can't tell you how in love I am with this pattern! i made it with the nursing panels andit is so easy to sew. It might be the only dress I wear from now on. Can't wait to make more!" - Abby
"It was such an easy make, very flattering and incredibly easy to fit it without showing everything off. " - Vicki
"Perfect first sew. This was the perfect first big sewing project I did with my daughter. Super easy and turned out super cute. I have loved each and every Peek-a-Boo Pattern I have bought." - Michelle
The Violet is a favorite sewing pattern for many of our customers and will be perfect for your girl's wardrobe. It features contrasting side panels with optional pockets. It includes options for tunic or dress length and short, 3/4, or long sleeves. It's designed for knit fabrics and is comfy to wear and a quick sewing project.
You can also make the matching Vienna for Women.
Our customers love sewing it:
"I've only been sewing for a couple of months and was a little apprehensive about the pockets, but it was so easy." - Carla
"First time sewing with knits! This was my first experience with knits and my second time using a PDF pattern. I found the isntructions very easy to follow and the pictures helpful. The clothing has turned out exactly how I wanted it and I'll continue to use the Violet pattern as my girls grow. Thank you!" - Emily
Get More Help in Our Pattern Shop Facebook Group
I hope you enjoyed this quick intro to our Maxi Dress Patterns for women and girls. Be sure to dive deeper on our website to sort through all of our Women's Dress Patterns and Girl's Dress Patterns. We also have a variety of guides like this to help our customers navigate through some of our more popular patterns and find the perfect pattern to start sewing.
You might like our Sewing Pattern Guide, Dress Patterns Guide, or our Dress Patterns for Women Guide.
Before you leave, be sure to join our Facebook Group and for your sewing supplies please visit our fabric shop over at KnitFabric.com. We offer better prices, higher quality fabric, and flat rate shipping. We REALLY appreciate your business!
Happy sewing!