Maternity Sewing Patterns | Sew Maternity Clothing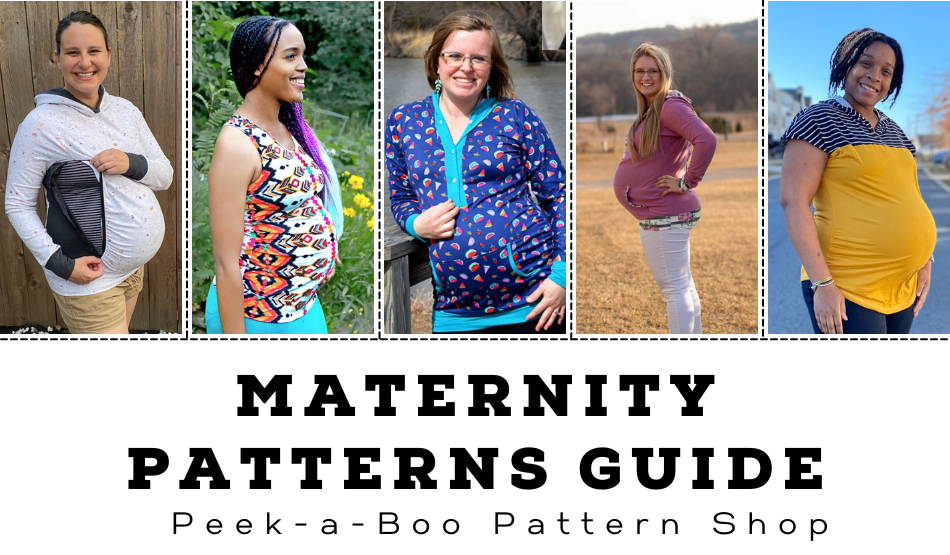 We have over a dozen different maternity sewing patterns - or sewing patterns with maternity options. This guide is here to give you an overview of all these patterns to help you decide which pattern would be right for you. We have good options for sewing shirts, outerwear, dresses, underwear, and even swimsuits for youself when you're pregnant.
Each of our sewing patterns comes with a full tutorial and color photos in an easy to print PDF. The pattern pieces are all computer generated and color coded for easy cutting. The patterns include layers so you can just print off the size that you need or use your projector. Also keep in mind that we sell a wide selection of apparel fabrics at our store KnitFabric.com. We offer higher quality fabric, at better prices, with flat rate shipping. Also, to see what our customers are sewing, get help with your sewing projects, and share what you make yourself, make sure to come join us over in our Peek-a-Boo Patter Facebook Group.
Shirt Patterns with Maternity Options

Let's start off with a variety of shirt patterns that we have with maternity options. If you click on the specific pattern and sort through the photos you'll find a number of different pictures of women who sewed them for different stages of pregnancy.
The Domino Dolman is perfect for every stage of live - including nursing and maternity. It includes a variety of pattern options, including:
Hood

Neckband: Crew and Scoop

Short or Long Sleeves

Colorblocking Options

Maternity

Nursing
"Awesome top. I give this a 5 star. The sizing is spot on, love the curved hem. It goes together fast and looks amazing. I made it out of a Cush fabric and love the results." - Tiffany
"Love it!! I love this pattern so much because you can have so many different looks. Love having so many options!!!" - Vivian
The Women's Tie Front Tee is an everyday staple that includes flutter sleeves, short sleeves, long sleeves, and choice of neckband or hood. Of course, the tie front tee also includes a maternity option.
"Easy to follow maternity instructions. I purchased this in part because it included a maternity option. My cousin is expecting her first and asked me to make her some maternity clothes, but many of the patterns I had didn't have a maternity option and, since I'd never made maternity clothing before, I didn't want to attempt hacking a pattern on my own. This pattern was perfect and the instructions were blessedly easy to follow. Yay! Thanks, PAB!" - Gaby
"Easy and versatile pattern. Quick & easy, and a good fit. Sleeves are streamline but I like that as it is a tee." - Maxine
The Women's Essential Turtleneck is another go-to basic to keep you warm and cozy during the cooler months. Pattern options include:
Mock, Turtleneck, & Cowl Neck

Standard or Bishop Sleeve

Top or Dress

Maternity

Nursing Access
"The new turtleneck PAB pattern...is a game changer for the cooler weather! YOU NEED THIS PATTERN. I did cowl necks for all of us but made a tee for myself and dresses for my girls. The bishop sleeves are gorg!" - Rachel
"If you want a quick and satisfying sew with a beautiful result, then hurry and grab the new Essential Turtleneck...My daughter loves it and is waiting for me to finish another one for her." - Mimi
The Women's Essential Raglan is with you every season and stage of life - including pregnancy. and nursing. It includes the following pattern options:
Sleeves: Short, 3/4, Long

Nursing Access

Maternity

Shirt or Dress Length
"Quick and easy sew. Easy to assemple pattern that was a quick sew. The top turned out lovely." - Rachel
"Super. Fantastic, the fit is perfect." - Johanne
The Women's Essential Tee is perfect for every season and stage of life - maternity and nursing options included. Pattern options include:
Necklines: Crew, Scoop, V-Neck, and Hood

Sleeves: Tank, Short, Elbow, 3/4, and Long

Shirt or Dress with Curved or Standard Hem

Nursing Access

Maternity
"Another great pattern. Easy to follow instructions. I purchased this pattern to make a maternity top for my daughter. It is a simple, quick pattern that fit excellent and made her happy. I will make more maternity and non maternity ones." - Doreen
The Vitality Racerback is perfect for athletic or everyday wear when pregnant or not. It includes:
Sportss Bra

Fitted Tank: Standard or Maternity

Swing Tank / Dress
"This is a great pattern! So easy to whip up and can create different looks with the different lengths. This is a must have staple for your pattern collection." - Bethany
"Versatile. 5 stars. Excellent, clear instructions. I love the style and versatility. I would recommend this pattern." - Jacqueline
Maternity Options for Outerwear & Dresses

We have some great other outerwear options and dress options for maternity. We already covered the Vitality above - which has options for dress and regular length top options. Here are some others:
The Women's Pinnacle Pullover features raglan sleeves, side panels, kangaroo pocket, side options, optional zipper nursing access, your choice of neckband or hood, and maternity.
"Fantastic pattern! Lots of options. My first one was a hooded maternity with side pockets and nursing access. Daughter thrilled and has barely taken it off. Doing another one without hood, not maternity but still with nursing access for her to wear as a pyjama top. Instructions are VERY clear." - Fiona
"Great pattern. I made this for my adult daughter. It was easy to sew, the directions were clear, and it fit perfectly." - Melody
The Hampton Hoodie is the perfect semi-fitted top with options for materniety and breastfeeding. Options include hood with placket in standard and exteneded length (for breastfeeding, standard hood, neckband, short or long sleeves, optional pocket, and maternity sizing.
"Lovely style. Easy directions and the fit was accurate. Different kind of hoodie that my daughter liked to wear to work." - Janet
"Love it! I've made a couple now they are an easy sew as I'm a beginner for sure and the fit is great!" - Dana
The Madrid Maxi Dress & More is our most popular women's dress pattern. It includes more options that we can note here along with nursing and maternity options.
"Love it. Made this for my daughter who is 32 weeks pregnant and added the nursing option. She wore it for her maternity pictures!" - Tammera
"Excellent for nursing and pregnancy. You gotta love a pattern with so many options! I loved that both maternity and nursing options were included! I've made two different versions already and can see this dress being a wardrobe staple through all aspects of a woman's life - prebaby, pregnant, nursing and postpartum:)" - Katie
We have a few Add-On packs that you can get to upgrade other patterns to include maternity. They include patterns for another dress /shirt - the Milan and options for women's underwear and a swimsuit.
The Milan will add a touch of elegance to your wardrobe. It includes options for a high-low hem, a dress and 4 sleeve lengths. The Milan Maternity Add-On includes a gathered front panel to accomodate the growing baby.
"Quick and Easy. I made the Milan Drape as tops for my daughter and daughter-in-law. I made each top from the measurements in the pattern. One was in XXXL and I altered the hem to straight across. The other was in XS and I kept the "swoopy" hemline. Both recipients were very thrilled with the fit and style and I have requests for more. Definitely a success!" - Pat
The Uptown Undies are our popular women's underwear pattern. They include undies and a camisole with an optional shelf bra. The Uptown Undies Maternity Add-On pack inlcudes variations for a maternity camisole, maternity camisole with nursing panel, and a standard cami with nursing panel.
"Wonderful. I used this to make an Uptown Maternity Cami and the whole process was very easy. I am making a few more maternity/nursing camis and lots of simply nursing ones in all colors and patterned fabric I can get my hands on. Thank you for an awesomely priced and easy to follow pattern." - Sew
The Bahama Mama Colorblock Tankini is one of our women's swim top patterns. The Maternity Add-on includes a gathered front panel to accomodate you during pregnancy.
"So glad I didn't have to buy a RTW suit. I hate shopping for swimsuits. Hate it. When I was pregnant, I doubly didn't want to shop for a swimsuit. Luckily I had made up the non-maternity version so I purchased the add on pack and happy day! A swimsuit I could live with!... The shelf bra held the bra in place and I finally had great support in a swimsuit! I will only ever wear PAB swimsuits from now on!" - Sarah
PDF Sewing Support in our Facebook Group
Thank you for joining us to learn more about our maternity sewing patterns. Make sure to come to visit us in our Peek-a-Boo Pattern Shop Facebook Group to get questions you have while sewing and to share what you make. If you enjoyed this guide, you might also enjoy our Jacket Patterns Guide or our Swimsuit Patterns Guide.
Sewing professional-looking clothing is easy with the patterns here at Peek-a-Boo Pattern Shop. Thank you for taking a look at our maternity patterns and happy sewing!