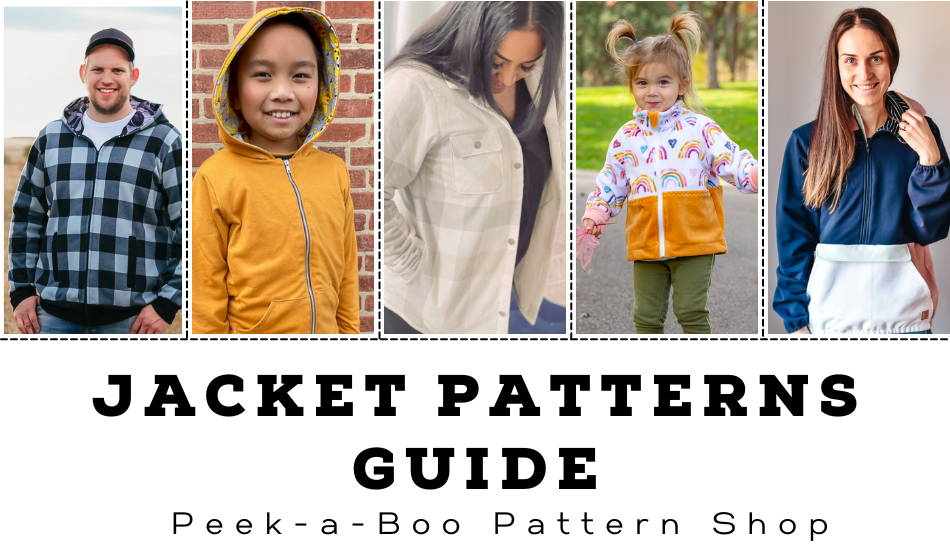 Jacket Patterns are everywhere here at Peek-a-Boo Pattern Shop. We have several different sewing pattern options for jackets for adults and children. This guide isn't meant to be a comprehensive guide to all of our jacket patterns but it is meant to give you a good idea of some of our most popular options.
Take a look at the customer reviews below each pattern - you'll find that our customers love sewing these up. You can get professional results, even as a beginner to sewing. These make great gifts too!
Our patterns generally come with a full tutorial and color photos in an easy-to-print PDF. PDF Pattern pieces are computer-generated and color-coded for easy cutting. Most of the featured jacket patterns also include layers and projector files - the few that don't are in the process of being updated to include them.
You'll notice that many of our jacket patterns can be sewn with knit fabric. Go to KnitFabric.com for all of your apparel fabric needs - we have higher quality fabric, at better prices, with flat rate shipping. AND…be sure to share your sewing project at the Peek-a-Boo Facebook Group.
Now here's our jacket guide:
The Adult Anorak Jacket has a nice vintage feel and plenty of ease to layer over other clothing. The pattern has a front zip, 3-piece lined hood, optional jacket lining, elastic sleeve hems, optional elastic jacket hem, and an optional kangaroo pocket. Additional options include a zippered pocket and pocket flap.
"Great pattern with easy to follow instructions. I used SPF sun protection fabric, didn't line it nor the hood, and bound the neck seam for a light "sun jacket." Love it." - Mary
"I love this pattern. Made the child size first x 2 then this one for myself I did zipper pocket with no flap I used board short material and lined entire jacket Great pattern." - Pam
The Adult Shirt Jacket is perfect for those cool Fall or Spring days. It has a classic styling with a button front and options for a hood or collar. You can finish the sleeves with a cuff or a simple hem.
The Shirt Jacket is designed for cozy fabrics like flannel, corduroy, fleece, and sherpa.
"Well written and true to size. Definitely a great pattern. I can see many more in different fabrics for different types of weather." - Michele
"Terrific pattern. The instructions are very comprehensive and I love the variety of options. Made one for my son in flannel and Sherpa and will definitely be making more." - Diane
"This pattern is excellent. The instructions are well written and the construction is masterful. I am very impressed!" - Nancy
The Women's Adventure Jacket includes options for a hoodie or bomber jacket and patch or welt pockets. It's designed for knit fabrics and can be made as a single layer or fully lined.
"The sewing pattern was very easy to follow and the results were phenomenal! I used CL and lined also with CL for a comfy light jacket. I made the Bomber style and my granddaughter loved it!" - Valerie
"Love this pattern! Great easy to follow pattern. And super easy to put together once printed out! " - Amy
Getting Ready for Fall. My grand daughter picked this pattern...this was a quick easy sew and she LOVES it. She chose a super soft fleece which was slippery to work with but so worth it. The finished product was a hit. Thank you for the easy to follow instructions and such a cute jacket." - Lynda
The Cascade Fleece Jacket has princess seams in the front and back. It zips up in the front and has a zipper shield as well as front pockets with optional zippers and a cozy collar.
"This was a great pattern, easy steps and directions. I used it to make part of a costumes, but will be using this to make a fleece jacket this winter." - April
Like the women's edition above, the Men's Adventure Jacket has options for a bomber jacket or hoodie and patch or welt pockets. It's designed for knit fabrics and can be made as a single layer or fully lined.
"Love it! Perfect jacket for a tall hubby who always has issues with short shirts and jackets. Love Peek-a-Boo." - Alyson
The Park City Pullover & Jacket includes a full zip jacket, optional inseam pockets, and 2 length (regular or tall). It also includes an option for a partial-zipp pullover.
"This pattern was an easy sew and everything matched up as expected!!" - Teri
"Great for tall men." - Jennifer
The Kid's Adventure Jacket, like the men's and women's versions, include options for a hoodie or bomber jacket and patch or welt pockets. The jacket is designed for knit fabrics and can be made as a single layer or fully lined.
"So good! This was so fun to sew up. I used luxe fleece lined with Sherpa and it turned out great! ❤❤❤" - Tammy
"Great pattern! Fabulous pattern, directions are clear and easy to follow. Made two hoodies, turned out great! I love it that there are so many options to the pattern!" - Gail
The Kid's Anorak Jacket, like the adult version above, has a full vintage style and can be made from woven or knit. It features a front zip, 3-piece lined hood, optional jacket lining, elastic sleeve hems, optional elastic jacket hem and an optional kangaroo pocket.
"This was one of the best patterns I have sewn this year - the clear instructions and step by step guidance make this a great project for someone entering intermediate level sewing. The finished product looks professional and it is sized perfectly." - Pam
The Kid's Shirt Jacket is a perfect extra layer for those cool days. It features classic styling with a button front and options for a hood or collar. The sleeves can be finished with a cuff or simple hem.
"Excellent pattern. The pattern and instructions were very easy to follow and I was very happy with the finished product. Due to the response I received for the kids ones I have recently bought the adult size as I have had a request for one from my son." - Karen
"The pattern was easy to read and follow. Instructions were clear. Will definitely be making this one over and over for the rest of my grandkids." - Courtney
The Explorer Jacket is packed with options and designed for your favorite outdoor fabrics like fleece, sweatshirt fleece, softshell, french terry, etc. Options include colorblocking, hood or collar, hemmed or cuffed sleeves, and lined or unlined body and sleeves.
"Best Jacket Ever. I used a fleecy softshell fabric and the jacket came together beautifully. I had never sewn a jacket before. Applying the three zippers was a new kind of adventure, but now that it's all together, you'd never be able to guess how many times I had to seam-rip and restart. We get tons of compliments on this cute jacket, and my son loves that it is one-of-a-kind!" - Alex
The Bridgeport Jacket features optional color blocking, welt pockets, hood and zip closure. It includes option for knit cuffs or woven cuffs with encased elastic. It's fully lined for extra warmth and a professional finish.
"Fantastic coat with clear instructions. I made 2 of these as raincoats (softshell outer, softsweat inner, and ribbing cuffs) so far for my 2 and 7 year olds. They love them and have had many compliments on them. " - Sarah
"Excellent - love this pattern...turned out beautifully and it was even my first metal zipper." - Carolyn
The Starboard Jacket is perfect for a grab-and-go jacket for anytime. The lightweight shell blocks the wind and it's lined for a comfortable finish. It features kangaroo pockets in front and a hood.
"Perfect fall or spring jacket. Just what I was looking for. Instructions way to follow end product perfect." - Pam
"Fun to make. Loved this simple standard zip jacket. I made the first one out of fleece and used the same pattern pieces to make a lining. It turned out great! This will be a fantastic go to pattern for any jacket weight." - Kathleen
The Puddle Jumper Rain Coat is fully lined to keep you dry and warm during the winter. It features front pockets, stay-put hood, and extra long cuffs so the jacket can grow with your child.
"Easy and quick. Easy to follow instructions and quick to put together. My raincoat turned out beautifully." - Kasey
"This was a wonderful pattern. The first one took a bit of thinking, but the instructions were very clear. I loved the way the lining went in, leaving no annoying seam at the neckline." - Susan
The Happy Camper Reversible Jacket is fully lined and fully reversible. The mock collar keeps your child warm and easy-sew zipper closure is perfect for easy dressing. Also includes zipper or in-seam pockets and a zipper guard to protect the chin.
"The pattern was so easy to follow! I made reversible jackets out of faux fur and quilting for my two granddaughters. They turned out so cute! They love the cozy jackets!" - Rita
"Making 8 of these as Christmas gifts! I think this sewing pattern is easy and accurate!" - Michele
The Little Gentleman Suit Jacket is the perfect jacket to get your little one dressed up for a special occasion - holidays, weddings, church, etc. It features a notched collar, back vent, and optional welt pockets.
"Great fit. Love finished look. This is a great pattern, easy to Follow and amazing results I am pleased with this!" - Elizabeth
"Great pattern. Easy to do for a self taught novice." - Jenny
Sewing Patterns Support in our Facebook Group
We sure hope that you enjoyed going through our jacket patterns today. As you can see, we have a whole bunch of jacket patterns. Our customers find them easy to sew - even a beginner can get professional-level results. Pick a jacket pattern and get going! You'll be surprised at the compliments you get for your sewing!
If you enjoyed this guide, then you should also take a look at our Pajama Pattern Guide or our Swimsuit Pattern Guide.
Also, come join our Peek-a-Boo Pattern Shop Facebook Group. In the group, you can share what you make, get inspiration, and see our special deals. Happy sewing!