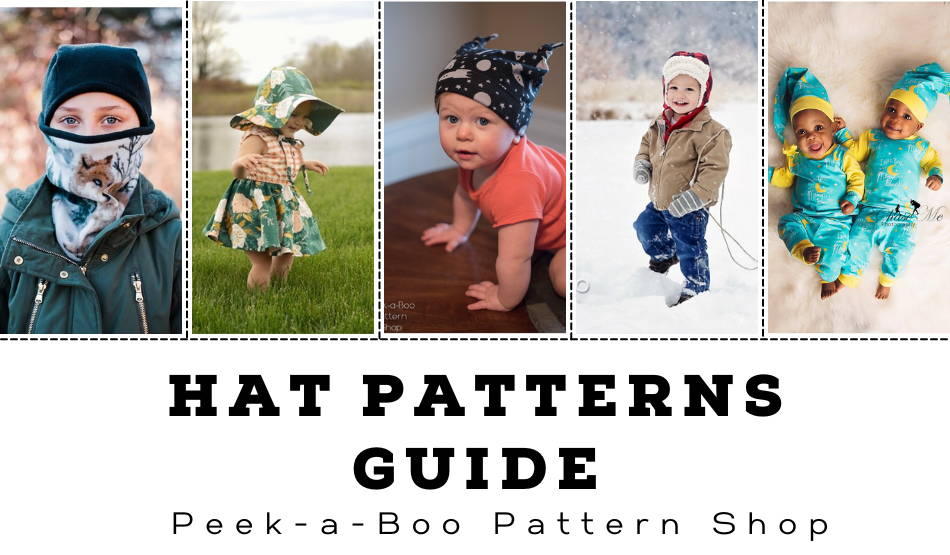 We have several fun hat patterns at Peek-a-Boo Pattern Shop for both kids and adults. We have a number of good hat sewing patterns for the winter months - a balaclava for kids and adults, an aviator hat for kids, a snow hat for kids, a little hat for baby, and even a free "Jack Frost Stocking Hat" for the holidays. For summer, we have some good options for hat patterns for kids - the reversible bucket hat and a couple of different sun hats.
Each of these hats is featured below in this article so make sure to take a look. You'll be surprised at how easy these hat patterns sew up and how you can get professional results from home. These hats make great gifts too!
Our patterns generally come with a full tutorial and color photos in an easy to print PDF. PDF Pattern pieces are computer generated and color coded for easy cutting. Most of the featured jacket patterns also include layers and projector files - the few that don't are in the process of being updated to include them.
We try to specify the fabric that each hat takes in the product description. Make sure to go to www.knitfabric.com for all of your apparel fabric needs - we have higher quality fabric, at better prices, with flat rate shipping. AND…be sure to share your sewing project at the Peek-a-Boo Facebook Group.
Now here's our hat pattern guide:
Probably our most popular hat pattern as of late is the Backcountry Balacalava Pattern. The Balaclava sewing pattern is designed to fit both children (ages 2 and up for safety reasons - see pattern page for details) and adults and fits heads from 20-24" with five included sizes.
The Backcountry Balaclava will keep you warm on super cold days - we love it for walking the dog in the winter and skiing. It's a "ninja style balaclava" that has a snug fitting cap with an attached mask that can be worn up over the nose, on the chin, or below th chin.
Recommended fabric is a poyester based knit with at least 40% stretch - fleece, athletic knits, sweatshirt fleece, etc.
"I love this pattern. The instructions are clear and the pieces fit together perfectly. I've made several so far with a wicking inner layer on the mask and consider it a wardrobe essential." - Lisa
"Excellent! I have made four of them Adult, teen and child. The instructions are easy to follow and it is a very quick project. Very gratifying! Thank you!" - Yvonne
"So good!!! I was looking for an extra layer to put under my daughter's hockey helmet while at the outdoor rink… in -18 degree Celsius temps. This was absolutely perfect and kept her toasty and warm! Thank you very very much!" - Anna
Alright - now it's time to showcase our hat patterns for girls and boys - we have some great winter and summer options.
The Reversible Bucket Hat Pattern is a perfect hhat to keep little boys and girls protected from the sun. This is a fun and quick sew and a great beginner project. It fit's kids from newborn to around 10 years old (22" head circumference).
"My fav hat pattern. I absolutely love the reversible bucket hat pattern ! The instructions are easy to follow and the results are very professional looking . Thanks for the great pattern !" - Catherine
"Reversible Bucket Hat is super-dooper. I whipped up this reversible sun hat in no time at all with the greatest of ease..... Peek-a-boo is now a go-to site for my pattern needs." - Ann
The Floppy Flower Sun Hat will keep your little girl proteted from the sun with its extra wide brim. It also has some fun flower embellishments. The Floppy Flower Hat ties to keeps your wiggly kids protected.
"This hat is so cute. Easy to follow instructions. My Granddaughter likes to be coordinating so with the ease of making these she can have many." - Sharon
"Great pattern. This is a simple to follow pattern. I've made 3 hats and will make many more. Perfect for shading little faces in the hot Australian Summer. Highly recommend this pattern. 😊" - Elizabeth
The 4 in 1 Sun Hat Sewing Pattern is perfect for boys or girls and is fully reversible so you can have multiple hats in 1. You can also flip up the brim for a whole new look.
"Super Hat. Sooooo easy and really cute! Came together it twenty minutes!" - Kimberly
"So worth i! Will make again. This pattern is easy to follow, shape and fit is good, love the technique for the ties. I would use at least a 3/8 seam allowance for ease of pressing, and cut the ties doubly wide: 3" x 12". Don't try to invent your own hat, buy this one!" - Hannah
The Aviator Hat will keep your kids warm all winter long! It's designed for bottomweight fabrics like sherpa, fur, minky, etc. and features classic styling with a front flap, ear flaps, and an optional chin strap.
"This is a great pattern. I have only made it once so far but plan to use it again. My four year old grandson is very happy with his hat, which I made with polar fleece and Sherpa lining. It fits well and is just right for ND winters!" - Debbie
"So Cute and Sew Easy! I made about 15 of these hats for my grandchildren and daughters for Christmas. The pattern instructions are easy to follow and the hat works up in no time at all." - Jennifer
The Lullaby Line Hat and Mitts include an option for a basic hat or double knot hat. These little hats have a nice comfortable fit and are super easy to sew up. The recommended fabric is knit fabric.
"Wow this set is very cute, I made a set for my grandson and I love it. Easy steps to follow and quick to make up. Makes the most amazing gift set." - Nat
"The pattern was very clear and concise. The illustrations also helped a lot. There are several sizes to choose from, depending on the size of the infant. I already sewed 5 hats and I know there will be more in the future!" - Marcia
The Snow Day Hat and Mittens is another one of our excellent winter hat options for kids. It includes sewing pattern options for a standard hat or ear flap hat. The recommended fabric is fleece or sweatshirt fleece.
"Lovely pattern. This pattern is an easy way to make a hat and mitten set. Easy to print, tape, and cut. Easy to follow instructions. It went together quickly. I used it to make a stay puffed marshmellow man costume for my great nephew." - Julie
"Ahhhmazing. I bought this pattern to make a hat for my son...who hates hats, and he sat on the couch wearing it all night! Win! I opted to make his hat with the ear flaps and it was really the quickest and easiest sew. It took me about 45 minutes from start to finish...
Before you leave, we have one more pattern that you might want to check out for the Holiday Season....and it's FREE! The Jack Frost Hat Pattern is a super fun edition to the holidays or just for those chilly nights. It comes in sizes from youth to adult.
The Jack Frost Stocking Hat Pattern is a quick and easy sew. It's perfect for the holidays and can be made from knit or fleece.
"So easy and cute! My granddaughter needed a Christmas hat for Hat Day at preschool. She wanted a "princess Christmas hat" so of course Mamaw came through. I embroidered a peeker princess appliqué on the edge and she loved it." - Lorie
"Wonderful service, very helpful and prompt, can't praise them enough." - Joan
"So cute easy make love it I'm making a bunch for the kids for Christmas . I'm a foster mom and we have a big Christmas party for the kids every year. thank you." - Dawn
Sewing Patterns Support in our Facebook Group
Thank you for joining us today to take a look through our hat patterns. As you can see - we have a ton of great hat sewing patterns for winter or summer. Make sure to take a look at the customer reviews - you'll be surprised at how easy our customers find our patterns.
If you enjoyed this guide, then you should also take a look at our Jacket Patterns Guide or our Swimsuit Pattern Guide.
Also, comejoin our Peek-a-Boo Pattern Shop Facebook Group. In the group, you can share what you make, get inspiration, and see our special deals. Happy sewing!