25+ Free Sewing Patterns | Free Sewing Tutorials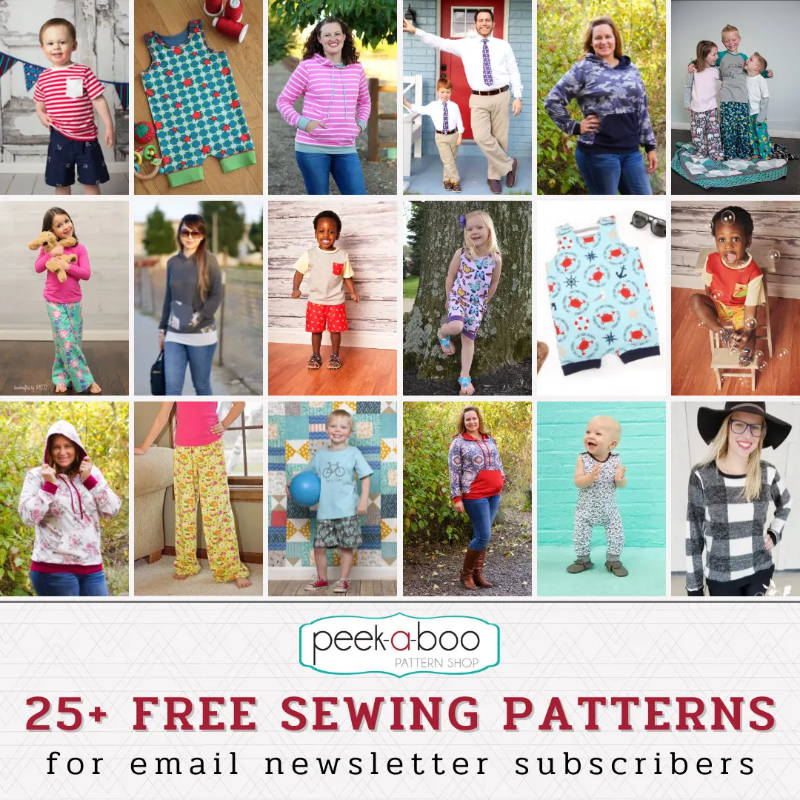 Peek-a-Boo Pattern Shop has Free Sewing Patterns for every occasion. These patterns are designed to get you started on your sewing journey with simple, yet stylish, sewing projects. We have over 25 Free Patterns. Our patterns come with a full tutorial and color photos in a PDF. The patterns pieces are computer generated and color coded for straight-forward cutting. Most patterns include layers so you can just print off the size you need and an A0 format for printing at a copy shop.
In need of some sewing assistance? Make sure to join our Facebook Group. In the Group you'll be able to get 24/7 help when sewing your patterns. You'll also be able to share what patterns you make and be a part of our sewing community of over 80,000.
Many of our most popular dress patterns are made with Knit Fabric. Luckily, KnitFabric.com provides an amazing selection of solid and print Knit Fabrics for every style and occasion. For full details on each of our free sewing patterns, go to our free sewing section of our website HERE. Click HERE to sign up for the code to receive our Free Sewing Patterns.
Now here's a few of our free and favorite patterns to sew:
Clothing Sewing Patterns for Free
For your sewing needs, be sure to chek out our Freebies Section HERE for all of our free clothing patterns. For now, we'll shine the spotlight on a few patterns:
The Day Camp Patterns set is a popular beginner shirt and shorts that thousands of people have loved sewing up. The shirt is a basic knit fabric shirt with an optional pocket and the shorts are best made out of a woven fabric like quilting cotton. This free sewing tutorial is perfect to get you started sewing for your child. Here's what some of our customers are saying:
"It was a very quick sew. This was my first sew with Peek-a-Boo Patterns and it will not be my last." - Joanne
"These patterns are extremely well written. Thank you so much for a great free pattern set!" - Erin
"These FREE shorts and shirt set are great! Love this pattern and even more since it was free! Always great patterns!!!" - Claire
Another free customer favorite of our patterns is the Adult Classic Sweatshirt. The classic sweatshirt has a nice relaxed fit so you can wear it with multiple layers. It also comes with multiple options to sew, including: (1) a hoodie or crew neck; and, (2) semi-fitted or relaxed fit sleeves. Its also unisex so you can make it for all the men and women in your life. And again - it's FREE!
"Would be a great beginne project or great for anyone wanting to make their own hoodie. I used sweater knit for my first one. Love Peek-a-Boo Patterns!" - Corrie
"Loving the adult classic sweatshirt!..It's true to size, which is nice. I'm using it for a sewing class I give to a small group. The are loving it." - Lisa
Finally, if looking for something fun for your baby we have The Romperalls. The design of the romperalls is all in the name - a cross between overalls and a romper. They have a shoulder strap that buttons at the top for simple dressing. They can be sewn as pants or shorts and worn with a shirt when it's cold outside.
The Romperalls are another one of our favorite Knit Fabric free sewing patterns - for your knit fabric needs be sure to check out KnitFabric.com.
"Fantastic pattern!...this pattern is free with code from the Facebook group...and it compares to, or is even better than paid Romper patterns!" - Jackie
"Yay! I got the Romperalls for free and I'm very happy...Iknow the quality of the Peek-a-Boo Patterns. I'm going to look in the shop for what other patterns to buy." - Tamara
The Jack Frost Stocking Hat will keep the whole family snug and warm this winter. It's quick to sew and perfect for the holidays. It can be made with knit or fleece.
"Wonderful service, very helpful and prompt, can't praise them enought." - Joan
"Kids love it. I enjoyed sewing it." - Kia
"Perfect! I love how quickly this hat comes together. My 7 and 10 year old boys used the pattern to make hats as Christmas gifts. It's very versatile - we used cotton woven, flannel, and fleece when we made them." - Beth
The Pajama Party Pants are a fun and free sewing project. It's a perfect sew for beginners. They have optional pockets and a higher rise in back for the perfect fit.
"Best patterns to buy when you have a little one!" - Sheelah
"Loved making them and will make more. Thank for the great patterns." - Cheryl
"Runs very true to size: I just followed my daughter's measurements, and the pj pants fit her spot on!" - Olga
The Super Kid Cape is one of our easiest free patterns to sew. The cape is fully reversible and you can personalize each side. It also includes 7 fun shapes for appliqueing and sewing a full alphabet.
"I'm glad this pattern was free since I'm sewing for 15. I've used many of these patterns and I'm not disappointed." - Janet
"Just getting back into sewing after years of not sewing...this made me feel accomplished." - Sharon
"I had fun sewing 4 capes from vintage sheets. The kids loved them." - Marlene
Accessory Free Sewing Patterns
Sewing doesn't end with clothes at Peek-a-Boo. We have some amazing and free accessories that you can sew up with these patterns:
Tiny Chef & Toy Oven Mitt
The Tiny Chef Apron & Toy Oven Mitt is the prefect accessory to help your little one stay a little more clean in the kitchen or for dress up. The Apron ties at the waist and has an elastic neckline so you can get it on and off easily.
"I'm not very experienced at sewing but this was very easy to understand and best of all my grandaughter loves it." - Jenny
"I am an experienced sewist but think it would be fine for anyone with minimal sewing skills. Such fun to gift my grandson a set for his play kitchen." - Patti
"So much fun to make! Of course it's always fun making stuff for the grandkids!!!...Will definitely make again!" - Debra
The Ultimate Baby Bib is perfect for clean-up. It has a pouch in front to catch whatever mess your baby might be making. It also includes snaps on the pouch for hastle free cleaning. If you are in a bib making stage of life you might also enjoy the Houdini Bib, which is ideal for a baby who likes to rip off their bib.
"Ultimate baby bib is truly the ultimate bib! I LOVE this bib!! I made 4 for my twin granddaughters and their mommy and daddy are loving having the girls stay clean as they eat!" - Julia
"Love this bib, I have made 8 of them so far and will make more." - Lynn
Our classic necktie is quickly becoming one of our most popular free patterns. It also includes a free youtube tutorial to help with any issues you have while sewing it up. It fits preschoolers to adults and includes both a standard tie width and a skinny tie option.
"Excellent pattern and tutorial. I had given sewing ties a try a few years ago and failed. I decided to try again with this pattern and instruction. What a difference a good pattern and instruction make!! I not only completed the tie but it turned out PERFECT!" - Melissa
"I'm new to sewing. This was a great novice pattern! I actually did it!" - Kimberly
I've been sewing Halloween Costumes for my kids for years. We actually have a entire blog post on the dozens of free costumes and sewing tutorials we have both here and at Peek-a-Boo Pages. Check out that full blog post HERE. Some of the costumes in the prior article are just tutorials but for this article I will spotlight a few of the costumes that we have FREE Sewing Patterns for.
If you're looking to dress up the kids like Elsa, Anna, and Olaf then look no further. The Elsa Ice Queen Free Sewing Pattern is long and sparkly and has a train. The Olaf Costume (which includes the snowman body - hat is separate) can help turn your baby into a snowman for Halloween. The hat is made with the Snow Day Hat. Finish it off with Kristoff (offered in size 2).
"The finished dress looked great and my granddaughter said she felct like a real princess." - Carol
"Beginner sewer and I made it!!! I am a beginner at sewing with NO lessons, and I made this costume for my great niece. I tweaked it to my ability instead of a zipper (yikes!) I did velcro on the shoulders. She loved it! Thanks for making me look like I know what I am doing." - Carrie
The Cinderella dress is fully lined with lots of tulle on the outside. The back has a simple velcro closure to get it on and off easily. Of course, you should sew your Cinderella dress with some butterflies and glass slippers! This free pattern is for size 5.
"This pattern was great to follow and create a beautiful dress." - Lori
"A dream-come-true for a granddaughter. Extremely clear step-by-step tutorial...looked much more complex than it actually was. Many thanks!" - Kirsti
If you're looking for another fun group costume we also have Beauty and the Beast free sewing patterns - this may work best if you have a little boy that doesn't mind dressing up in a coordinating costume to make his sister happy.
The Belle inspired costume sewing pattern comes in one size but should fit most toddlers. It includes the fancy yellow dress from Beauty and the Beast. The Beast is for an 18 mo. old but we have some instructions on how to size up if need be at Peek-a-Boo Pages.
"The instructions were easy to understand and the dress came together nicely." - Clare
"Thank you for another excellent tutorial!" - Kirsti
If you're looking for matching patterns to make costumes for all of your kids then we have a few options for you to sew up. One fun one is The Beast - which pairs perfectly with Belle above.
"This was a great delight to make...Granddaughter was playing Beauty in the musical so made 3 yr old grandson custome of this precious Beast." - Rhonda
"So cute!! I loved that the printed pieces were actual size. I made this for my 2-yr old great-grandson for Halloween and he looks absolutely adorable in it! I was so very pleased." - Rebecca
Another free option for matching patterns is to make this Olaf Snowman Pattern with Elsa above. Sewing up a snowman is simple with this free tutorial. This includes the snowman body. The hat is made using our Snow Day Hat.
"I am a beginner at sewing with NO leassons and I made this costume for my great niece...She loved it! Thanks for making me look like I know what I am doing." - Carrie
If you'd like to make a costume for your 18" Doll then we have a number of free sewing patterns to do that too. You can start sewing for dolly by looking through our Free Sewing Patterns where you'll find not only the Doll Tee but also a circle skirt, swimsuit & leotard, boots, and a mermaid tail.
"Thanks Peek-a-Boo Patterns. This was just the thing to complete the veterinary doctor outfit that my granddaughter wanted for her AG Doll. She loved it!" - Marcia
Other Free Sewing Resources, Projects, & Sewing Patterns

Thank you for joining us to take a look at these free patterns. Of course, we were only able to feature a few of our patterns in this guide. Make sure you sort through all of the free ones HERE. Remeber, to get sewing these patterns for free you need to first sign-up for our newsletter HERE to get the code.
Also, come join our Peek-a-Boo Facebook Group where all of our customers love to share what projects they are sewing, including all of their free patterns. If you enjoyed this Guide, you might explore further by taking a look at our Dress Patterns for Women Guide or our Patterns for Beginners Guide.