65+ Sewing Patterns for Dresses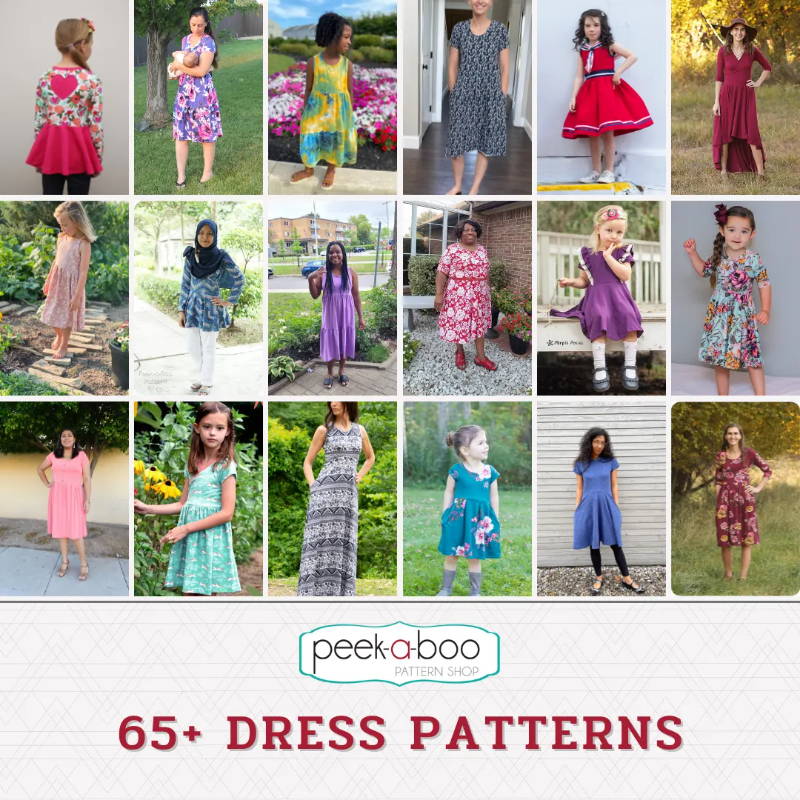 Dress Patterns! Peek-a-Boo Pattern Shop is the only stop you need for patterns for all of the women, girls, and babies in your life. Whatever you're sewing, you'll find the perfect patterns here. In total, we have over 65 patterns that have a dress option. These include options for sewing items for both formal and informal occasions as well as patterns for every season.
This Guide is here to both showcase our most popular patterns for sewing and to help you sift through our many patterns to find the one that is right for your sewing project. We don't include all our Patterns in this guide so be sure to check them all out Here.
Our pdf sewing patterns come with a full tutorial and color photos in an easy to print PDF. The patterns pieces are computer generated and color coded for easy cutting and sewing. Most patterns include layers so you can just print off the size you need and an A0 format for printing at a copy shop.
Many of our most popular pdf sewing patterns are made with Knit Fabric. Luckily, our fabric shop www.KnitFabric.com provides an amazing selection of solid and print Knit Fabrics for every style and occasion.
Peek-a-Boo has a wide selection of women's dress patterns for both formal and informal occasions. Unfortunately, we don't have time to go into detail on all of our other patterns. There's just too many!!! There's truly someting for every person, every occasion, every sewing level, and every season. To see our full line-up of patterns head over to the Women's Dress Section. AND…be sure to share what you are sewing at the Peek-a-Boo Facebook Group.
The Vitality Racerback is perfect for athletic activities or everyday wear. It includes options for sewing a sports bra, fitted tank, or a swing tank / dress.
"Excellent patterns. Batter patterns...with the price on point and the finished result is always amazing. Will continue to buy patterns here." - Maikalani
"Versatile. 5 stars. Excellent, clear instructions. I love the style and versatility. I would recommend." - Jacqueline
The Sicily Swing is fitted through the bust with a loose, swing fit through the hips. It includes options for sewing: (1) Dress and Tunic Length, (2) Short, Elbow, 3/4 and Long Sleeves, (3) Neckband, Hood and Cowl, (4) Optional Inseam pocekts, and (5) Optional nursing access.
"I made it with a cowl neck, and the size was very true to my measurements. I just ordered fabric to make another." - Marjorie
"My favorite fall top.... I am a beginner when it comes to sewing...first time I've ever sewn for myself...it fits perfect and is my favrotie top in my closet for the cooler weather. .." - Kristie
The Cheyenne is a beginner friendly sew with a boho-chic vibe. It has options for sewing: (1) 2 or 3 tiers, (2) Sleeveless, bishop sleeves, or basic short / long sleeves, (3) Optional pockets, and (4) Optional nursing access.
We also spotlighted the matching Cassidy for Girls below.
"Fantastic, easy to follow directions." - Christine
"The pattern was very easy to sew and I liked it." - Carol
The Madrid is packed with options to sew, including a: (1) Empire or Natural Waist Bodice, (2) High or Scoop Back Neckline; (3) Lined Bodice or Unlined Bodice with Bindings; (3) Nursing Access, (4) Sleeveless, Short, Elbow, ¾ or Long Sleeves, (5) Gathered or A-Line Skirt; and (6) Optional Inseam Pockets.
Our customers love sewing the Madrid, and it gets frequent comments and shares in our Facebook Group. Maddie says:
"Peek-a-Boo Patterns has quickly become my favorite company to purchase all my patterns from. The Madrid is no exception!"
"This was a super simple esay to follow quick and fun sew. All together cutting and sewing it took about 3 hours...came out so comfy and cute will make again." - Layna
Another one of our top selling and very popular patterns for sewing over the past year is the Women's Everyday Dress.
The Women's Everyday Dress is another versatile pattern to sew comfortable dresses with knit fabric. It is simple to sew and, like the Madrid, is packed with options for different lengths, sleeves, nursing access, etc. It has a modest neckline and semi-fitted bodice. Gretchen says:
"The Everyday Dress is such a versatile pattern. Not only does it have several options but the fit was perfect. I'd been looking for something that fit and made me feel comfortable."
"Perfect first sew. This was the perfect first big sewing project I did with my daughter. Super easy and turned out super cute. I have loved each and every Peek-a-Boo Patterns I have bought." - Michelle
If you're looking for something to sew that's a little more fancy then look no further than The Melbourne. The Melbourne is designed for medium weight knit fabric with at least 50% stretch. Cotton Lycra or Double Brushed Poly might be good options.
Again, The Melbourne is packed with options for sewing various lengths and necklines but includes a fancier option with a fish tail circle skirt with a high-low hemline.
"Made a Melbourne the night before our family photos and I'm SO glad I did!!! How amazing is this dress for twirling?! Even just standing still it drapes so perfectly. I'm so happy I bought this!"
"Easy and lovely. My daughter is taking a sewing elective..she was able to easily sew this dress even though she's never made clothing before...the nice thing about electronic patterns is you can print them out over and over without worrying about losing the pattern pieces." - Seth
Women's Garden Party Dress
The Women's Garden Party Dress is our newest women's dress pattern. It is packed with options so you can create the perfect dress for any event. The crossover bodice option is breastfeeding friendly. The pattern includes options for sewing: (1) Knee or Mini Lengh Skirt; (2) Flutter or Basic Sleeves, (3) 5 Different Necklines; and (4) Optional Inseam Pockets.
"A very easy sew and so beautiful." - Florena
"The Garden Party Dress is a quick and easy sew! It includes may different options for necklines, sleeves, and dress lengths to make it fit your style." - Abbey
"I absolutely love it! It's perfect for spring." - Kassandra
Rialto Romper & Dress Pattern
The Rialto Romper and Dress is a comfortable and stylish outfit for the entire year. It has mix and match options for sewing the Bodice: Cross-Back Tank or Tee Bodice; and, Bottom: Jogger Shorts, Track Shorts, or Skirt with optional pockets.
"A romper that stays on! The cross straps are genius, no worries about wardrobe malfunctions! They cover an X-back bra straps nicely. Easy to put together." - Stephanie
"The romper is very comfortable. Looking forward to making the various versions." - Cherie
The Women's Essential Tee also has a popular dress option. It is packed with tons of options and is perfect to fill up the closet.
You'll find sewing the Women's essential tee to be simple and enjoyable.
"Perfect for everything. Loads of people in the maternity & nursing sewing facebook group have been saying how good this pattern is, so I gave it a go. The options definetly see you through all stages of pregnancy and nursing, and all seasons of the year...really clear instructions, a good printing guide so its easy to identify which pages to print and my A4 pages aligned nicely together. Looking forward to filling my wardrobe with more of these tees and dresses!" - Sarah
Girl's Dress Sewing Patterns
The Rio Racerback, which also has a Women's Version, is one of our perfect go-to knit patterns for a casual summer day. It has options to sew a tank, tank top, dress with gathered skirt, plain or gathered neckline, and an optional bow.
Our Group members love sewing the Rio.
"It is amazing how easy these patterns make sewing. Clothes have always intimidated me but no more!" - Bethany
"I've been sewing for years but never really used patterns. I found this one very easy to understand. It was an easy quick sew and looks wonderful." - Janelle
Another customer favorite to sew is the Violet. The Violet has contrasting side panels and optional pockets. It has options for sewing a tunic or dress length and short, ¾ or long sleeves. Again, it's designed to sew with knit fabrics. If you're looking for a women's version, look no further than the Vienna.
"Very easy...instructions are great as with all Peek-a-Boo Patterns." - Teresa
"The pattern is perfect and the instructions are super simple and easy to follow. I've only been sewing for a couple months and was a little apprehensive about the pockets, but it was so easy." - Carla
One of our most popular woven patterns to sew is the Wildflower Dress. It includes 144 variations - that means you could potentially sew 144 different dresses. Depending on your variation and fabric choice you can make the Wildflower perfect for a party or for casual play. It also comes with a video tutorial for some of the trickier sewing steps.
It's one of our customer's favorite patterns for Easter or Christmas dresses.
"I loved how well the instructions were written and the YouTube video was very helpful...I will definitely try other patterns from here." Deidre
"I had gotton away from sewing on woven fabric but this was such a cute pattern I had to try...the fit was perfect." - Jodi
The Riley is packed with tons of options to make a comfy and fun outfit for any season! The Riley includes options for sewing a: (1) Cross-back tank, (2) Tank with short or long sleeves, (3) Joggers in shorts & pants lengths with optional pockets & optional snap inseam, and (4) Skirt with optional patch pockets.
"Love, love, love the Riley Romper! Perfect for toddlers on the go...This pattern is amazing! - Elizabeth
"I love this...made age 6 for my Grandaughter....definitely my proudest make so far. Will be making lts more." - Elizabeth
The Little Miss Sunshine is quick to sew and comfy to wear. It features Dolman sleeves and options for sewing a paneled circle skirt and dress or a basic tee. The front and back neckline are the same so your little rays of sunshine can get dressed super easily - no front or back to worry about.
"I love Peek-a-Boo Patterns! Sizes are clearly marked and very true to size...I would say beginners and almost anyone else can easily follow along...with all the variations you're able sew many, many, colorful dresses to fill a little girl's closet." - Barb
The Cassidy (and the matching Cheyenne for women) is beginner friendly with a fun, boho-chic vibe. The Cassidy is designed for knit fabrics and includes options to sew: (1) 2 Tiers, (2) 3 Tiers, (3) Sleeveless, (4) Basic Short or Long Sleeves, (5) Bishop Sleeves, (6) Puff Sleeves, and (7) Optional Pockets.
"I love this pattern so much, I have made my granddaughters two each. I have been having fun tye dying as well." - Susanne
"Love this pattern! I was hesitant at first with all that gathering, but the way the dress is constructed makes the gathering a breeze! It's my 4 year old's new favorite dress!" - Rachel
The Girl's Everday Dress and Peplum is perfect to fill any girl's closet for winter or summer. The Everday includes options for sewing: (1) Short, 3/4, or Long Sleeves, (2) Half Circle Skirt, Gathered Skirt w/ Basic Hem and Gathered Skirt w/ Curved Hem; (3) Knee-length & Peplum length, (4) Hood or Neckband, (5) Optional Inseam Pockets, and (6) Optional Chest Pocket.
"Very easy to understand instructions and the dress ended up gorgeous." - Rebecca
"Everyday dress - make it every day! This is a lovely pattern for a beginner like me! Easy to follow and very forgiving. A quick sew, even first time around, and my granddaughter loves it. Apparrently it is great for doing the can-can!!!" - Gill
The Madeline Crossover is a dress pattern pdf that features a faux wrap bodice, 3 sleeve lengths (short, 3/4, and long) and 5 skirt options! The Madeline includes a show-stopping fish tail circle skirt with a high-low hemline, a standard circle skirt in a top and dress length and a classic gathered skirt in a top and dress length.
"One of the easiest patterns ever! Loved it. I needed a change from the standard bodice that I often sew. The criss cross look turned out so cute. I was worried it might gap or be too low but it was perfect." - Candy
"This is one of my all time favorite patterns for my sewing business." - Joy
The Ruby Party Dress is perfect the perfect dress sewing pattern for that special occasion. It includes options for sewing 2 Skirts (Pleated Twirl or Gathered); 5 Sleeve Options: Sleeveless, Short, Elbow, 3/4, and Long; Optional Portrait Collar; Classic or Scoop Back; 2 Sashes: Classic Sash or band w/ Removable Bow.
"Christmas Dress perfection. These dresses were so lovely...the pattern was easy to follow...Highly recommended. I have been making their Christmas dresses for years...this is one of their favorites." - Kate
"Excellent. Sizing was perfect and instructions were really clear." - Frieda
We can't complete our guide without including our patterns for baby girls. We have a number of different bodysuit patterns that include dress options. We can't feature them all so you'll have to go see the Eeny Meeny Miny Moe for yourself. It's another one of our costumer's favorite patterns to sew up.
The Duck Duck Goose has so many options that you could sew your baby a full wardrobe but we'll show you the Dress option for this guide.
"This is simply adorable, as always your patterns and instructions make this an easy make!" - Angela
"I love all...ALL your patterns!" - Helen
"Such a quick and easy sewing project." - Rebekah
Finally, for the babies we have the Bumblebee. Again, the Bumblebee has a wide variety of options to sew, including a dress. It also includes different sleeve options for flutter, short, or long sleeves and a variety of necklines.
"Lovely easy pattern which looks very good on my grandaughter. I love Peek-a-Boo Patterns." - Barbara
"Terrific pattern. The style is unique, cute and functional! - Mady
The Lullaby Line Baby Gown is essential for any newborn. The lap closure at the shoulders and elastic hemline make dressing and diaper changes super simple. The sleeves also feature fold-over mitts to keep little hands warm and prevent scratching.
"Best baby gown pattern out there!" - Rebecca
"Easy to sew, cute outcome and really easy to follow sewing instructions." - Bolette
Peek-a-Boo Pattern Shop Facebook Group and Other Guides
We hope you enjoyed taking a peak at some of our dresses. These PDF sewing patterns are some of our favorite sewing patterns in our line up. Of course, we were only able to feature a few of our patterns in this guide. Make sure you sort through all of them for yourself HERE.
Also, come join our Peek-a-Boo Pattern Shop Facebook Group where all of our customers love to share what they are sewing, including all of their dress patterns. For your sewing supplies and fabric be sure to come visit KnitFabric.com. If you enjoyed this sewing Guide, you might explore further by taking a look at our Dress Patterns for Women Guide or our Sewing Patterns for Beginners Guide.