Top Dress Patterns for Women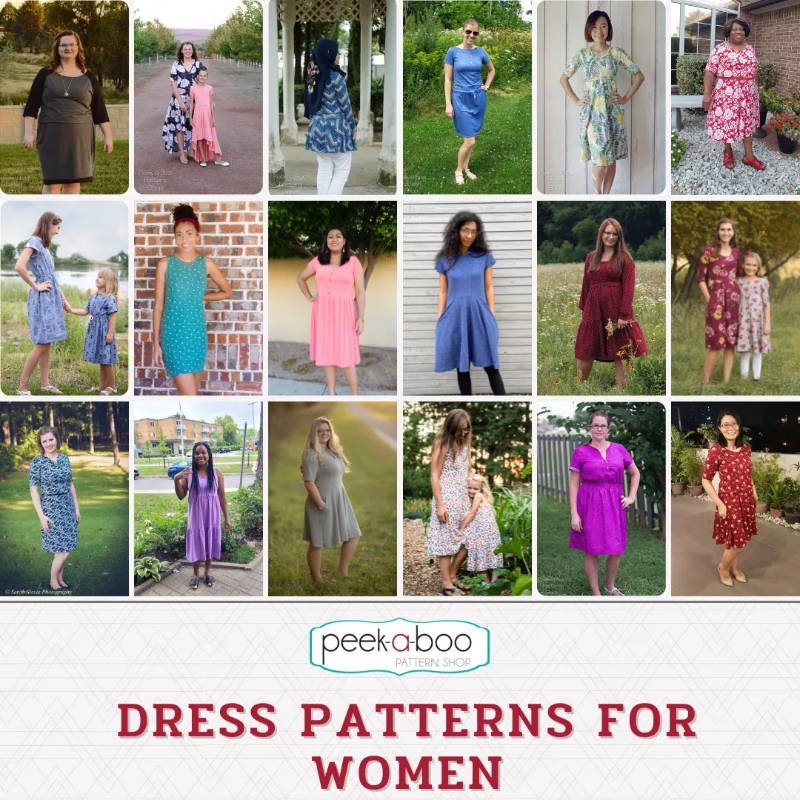 Peek-a-Boo Pattern Shop has a wide variety of dress patterns for women. From summer to winter and from informal everyday wear to something for a more special occasion, we have all of the patterns to help you sew a complete wardrobe for yourself.
This guide is here to assist you in sifting through our different patterns to figure out which one would be perfect for your specific project or occasion. You'll also find that many of our patterns have matching girls patterns so you can make dresses for the whole family.
We do a pretty good job spotlighting our dress patterns here but you can also sort through them by fabric type, price, skill level, etc at Dress Patterns for Women and Girl's Dress Patterns.
Also, you'll notice that many of our patterns are designed for knit fabric. To find a wide selection of both solid and print knit fabric you should head over to our sister site - www.knitfabric.com. At KnitFabric.com we have higher quality knit fabrics, at better prices, with flat rate shipping.
Each of these patterns comes with a full tutorial and color color photos in an easy to print PDF. They are computer generated and color coded and make for easy cutting. Now here's our dress patterns guide:
Peek-a-Boo Pattern Shop has a wide selection of sewing patterns for women for both formal and informal occasions. Many of them also have options for various seasons - short sleeves and skirts for summer or something with more coverage for other times of the year. There's truly someting for every occasion and season. To see our full line-up head over to the Women's Dress Pattern section. AND…be sure to share what you create at the Peek-a-Boo Pattern Shop Facebook Group.
The Madrid Maxi is currently our most popular women's dress pattern. The Madrid has tons of options - you can make a different style for every time and season of the year as well as a more formal look for the occasion. It also includes designs for nursing access and maternity.
The options on the Madrid include: (1) empire or natural waist bodice, (2) high or scoop back neckline, (3) lined bodice or unlined bodice with bindings, (4) sleeveless, short, elbow, 3/4 or long sleeves, (5) peplum, knee-length or maxi dress, (6) gathered or A-line skirt, and (6) optional inseam pockets.
We also have a matching maxi pattern for girls: the Melanie.
"Amazing pattern! It is a great pattern with so many options...will make many more." - Ilona
"All around perfect dress. The pattern was easy to follow and sewed up quickly. It has so many options that you can find the right dress for your for any purpose you plan to wear it: work, church, vacation, evening wear, special occasions or everyday...This is THE EVERYTHING (and more) DRESS!" - April
The Sicily Swing Dress Pattern for Women, which also includes a tunic option, is another popular choice. It's fitted through the bust with a loose, swing fit through the hips. It also includes a variety of options including: (1) dress and tunic length, (2) short, elbow, 3/4, and long sleeves, (3) neckband, hood, and cowl, (4) optional inseam pockets, and (5) optional nursing access.
Once again, we also have a popular swing dress pattern for girls: The Sophie
"So versatile! This pattern was a quick sew and I love all of the available options. It is so rare to find cute, pregnancy friendly, nursing friendly patterns. I love it!" - Lara
"Simple pattern, great results. I've now made 3 dresses for myself. This comes together quickly for a simple comfortable dress! Looking forward to making a tunic soon." - Rachel
"Perfect for any party. This is a perfect pattern." - Heidi
Cheyenne Tiered Dress Pattern
The Cheyenne is a beginner friendly knit option with a boho-chic vibe. It has options for: (1) 2 tiers, (2) 3 tiers, (3) Sleeveless, bishop sleeves, or basic short / long sleeves, (4) Optional pockets, and (5) Optional nursing access.
With these options you can make a sleeveless dress for summer or something with a little more coverage for another time of the year.
"The pattern was very easy to sew and I liked it. Thanks for a wonderful dress." - Carol
"It's such a wonderful, easy to sew pattern and hello POCKets! I've made a few tiered dresses before, but really enjoyed this pattern and how it has you construct the tiers, it was super easy..." - Ashley
The Women's Essential Tee is a pattern to help you fill up your closet quickly. It's perfect for Spring, Summer, Fall, or Winter and has maternity and nursing options included.
Options include: (1) Necklines: Crew, Scoop, V-neck, Deep V-neck, and Hood, (2) Sleeves: Tank, short, elbow, 3/4 and long, (3) Nursing Access, (4) Maternity, (5) Shirt with Curved or Standard Hem, and (6) Dress with Curved or Standard Hem.
"Great pattern, great fit, easy to follow directions." - Mary
"My new summer wardrobe! I have made this pattern 3 times already and I plan to make even more." - Carol
"I love the t-shirt dress! I love how simple it is and I love the shirt dress style and I've made so many for the summer." - Jazmine
The Women's Everyday is a newer sewing pattern that's quickly becoming a staple for our customer's closets. It includes over 100 variations, making a perfect go-to dress for any time of the year. It's designed for knit fabric and features a more modest neckline, semi-fitted bodice, and optional nursing access.
In total, it has the following options: (1) short, elbow, 3/4 or long sleeves, (2) half circle skirt, gathered skirt w/ basic hem, or gathered skirt w/ curved hem, (3) above knee or knee length dress lengths, (4) hood or neckband, (5) inseam or chest pockets, and (6) nursing access. :
Also, you'll be happy to know there is a matching Girl's Everyday.
"The perfect dress! I can't tell you how in love I am with this pattern! I made it with the nursing panels and it is so easy to sew. It might be the only dress I wear from now on. Can't wait to make more!" - Abby
"Perfect first sew. This was the perfect first big sewing project I did with my daughter. Super easy and turned out super cute. I have loved each and every Peek-a-Boo pattern I have bought." - Michelle
If you're looking for something a little fancier, we have the Melbourne Crossover. The Melbourne includes a dazzling faux wrap bodice and fish tail circle skirt with a high-low hemline. It has a number of other options for sleeve length and skirts. If you prefer a more modest neckline, the Melbourne also includes an optional modesty panel for more coverage.
If you want to make a matching one for your girl we have the Madeline.
"Perfect versatile dress! I love the options on this dress - so easy to make something barbecue casual to ultra formal. Easy to sew too and modesty panel is perfect for nursing! All around, a huge win!!" - Sonia
"Just the pattern I was looking for. I love the dress I sewed with this pattern. It was clearly written, easy to follow and finished as shown. I get lots of compliments." - Lori
The Edenbrooke features a lined bodice and a lot of mix and max options, including: (1) pleated, skater, or gathered skirt, (2) basic bodice, partial button, or full button front, (3) short, 3/4 or long sleeves, and (4) optional inseam pockets.
For a matching girl's pattern, check out the Everly.
"Easy and flattering. The pattern was easy to follow, a quick sew, and ended up being very flattering." - Cindy
"Love this. Never could find a dress pattern I liked for myself to match with my daughter until this pattern. Made matching dresses using the Every dress pattern for my daughter. Super easy and I get so many compliments about the dress. Making many more for sure." - Eri
The Boston Boatneck includes options for a dress and tee and short or 3/4 sleeves. If you make this using a comfy knit fabric like cotton lycra then it will become a quick favorite.
This is quick and simple to sew, comfy to wear and perfect for different occasions. It's perfect for summer. It also has an elastic waist with optional drawstring.
" Love this dress! Came together very easily! Will be making more of these! Love the versatility of the pattern!" - Tricia
"Wow, beatiful...Always satisfied with all the Peek-a-Boo Patterns that I've bought." - Valerie
One of our most popular woven patterns is the Wildflower Dres. This pattern includes 144 variations - that means you could potentially sew 144 different styles with 1 pattern. Depending on your variation and fabric choice you can make the Wildflower perfect for a party dressor for casual play. The pattern also comes with a video tutorial for some of the trickier steps.
"Well worth the challenge. A button-up shirt/blouse might sem intimidating at first, but this pattern will walk you through the process with excelent photos, step-by-step instructions and you will be amazed (and proud) with your finished product...This is a fantastic pattern that gives very professional results." - Daisy
The Rialto is a comfortable and stylish outfit for anytime of the year - especially summer. It includes a wide variety of options for the bodice including a cross back tank, tee bodice with various sleeve length, and 3 different neckline choices.
The bottom options include joggers shorts or pants, track shorts, or a skirt with optional pockets.
"This pattern was very good and easy to use. I will order from this site again." - Dorothy
"Best pattern ever! I have been wanting to make a jumpsuit/romper for a long time and when I saw that there was a pattern for adults I jumped to the pattern and started sewing. The pattern was easy to follow...Absolutely love this jumpsuit/romper pattern." - Jazmine
Another one of our top selling patterns for many years now, is the Vitality Racerback. The Vitality also comes with several non-dress options but the option for the tank or dress pattern for is a favorite. It's a perfect summer dress option and is designed for knit fabric.
Again, we also have a popular girl's racerback dress pattern: The Rio Racerback.
"Versatile. 5 stars. Excellent, clear instructions. I love the style and versatility. I would recommend this pattern." - Jacqueline
"Excellent patterns. Best patterns, really easy to work with, the price is one point. And the finished result is always amazing. Will continue to buy patterns here :)" - Maikalani
The Friday Harbor features a henley neckline, button placket, back youke, bust darts, and rolled sleeves. The dress option has an elastic waist with faux drawstring and inseam pockets. Button front works great for nursing. This pattern is designed for woven fabrics.
"Love the pattern more than I though I would...I I'm very happy with the results." - Mary
"I got so many compliments on my dress." - Kasey
"The Friday Harbor has found a permanent home in my closet! All the heart eyes for this one <3<3<3." - Bethany
Sewing Patterns Support in our Pattern Shop Facebook Group
Thank you for coming to take a look at some of our favorite dress patterns. For more information, click on the individual listing and you'll see the full listing.
You'll find these PDF sewing patterns for women are easy to sew and will become your favorite sewing patterns for women. Dress pattern sewing may become your new hobby! As you can see, our customers love how easy these patterns are. If you enjoyed this sewing guide, then please be sure to check out our full Dress Pattern Sewing Guide which includes dress patterns for girls. You might also enjoy our Easy Patterns guide.
For a free pattern to get your feet wet, you can take a look at our Freebies section. You can get the code to these sewing patterns by signing up for our newsletter HERE.
Whatever you do, make sure to come join us at the Peek-a-Boo Pattern Shop Facebook Group. In our Facebook Group you'll be able to share what you make with your PDF sewing pattern, get inspiration from what others have made, ask sewing questions, and see our latest sewing patterns and deals. Happy sewing!